It was easier in the pre Mandal era to make predictions about Indian politicians and politics than now in the post Mandal era when the horoscopes of politicians like Nitish Kumar, Laalu Prasad Yadav, Mulayalam Singh and others are not available as most of them themselves do not know their birth details. Yet, a television channel was almost suggesting that Laalu and Pakistan's Nawaz Sharif seem to have same horoscope as both fell simultaneously and on the same charges-----financial corruption.
The first oath taking chart of Nitish already discussed where the given time was got from a reliable source shows the tenth lord Jupiter aspected by the twelfth lord Saturn leading to the resignation of his government. If it wasKumbha lagna, with the tenth lord in the eighth house, it would have led to dramatic and disgraceful collapse.

There is easier and better ways of timing events from these charts than the five year Vimshottari dasha system tried first by late Dr. B.V.Raman and not yet proven to be reliable.
In the second oath taking chart of Nitish Kumar the tenth lord is in the twelfth house aspected by the sixth lord and it is clear that in this case the battle will be fought in a court of law.
The likely argument that will be raised by Tejaswi Yadav will be that his being the largest party it should have been invited first to form the government.
In defence, the argument from the side of Nitish will be that the governor was satisfied that his bloc had larger number clearly as was proven in the vote of confidence and the governor did not act unconstitutionally.
But the case may not end there and may reach the Supreme Court, if the High Court turns down the plea of Tejaswi.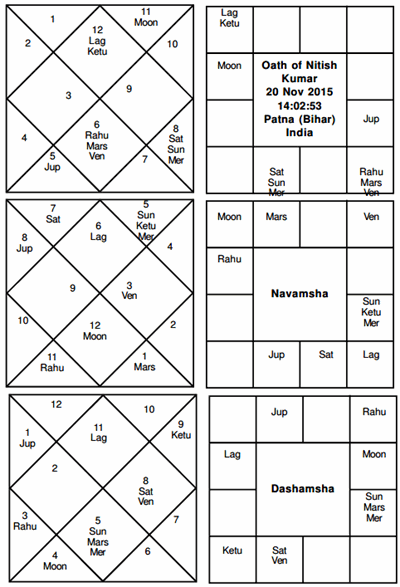 The navamsha of the first chart again shows the tenth lord in the twelfth house with the twelfth lord and in the grip of the Rahu-Ketu axis.


In the dashamansha the tenth lord is with the eighth lord but aspected by Jupiter though Saturn too aspects it making it unpleasant enough for all.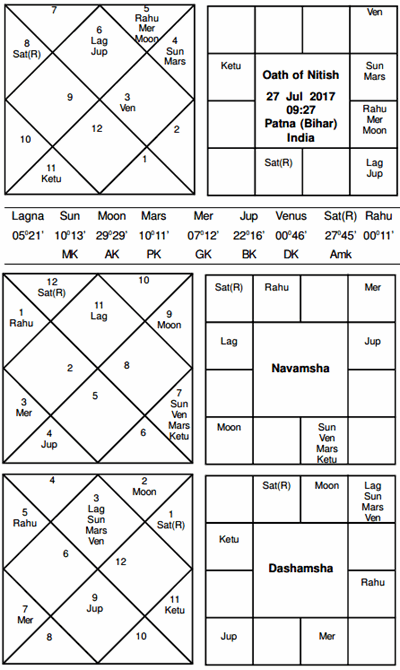 9.57 am: Nitish Kumar takes oath as the Chief Minister of Bihar for the sixth time in 12 years. Sushil Kumar Modi sworn in as Deputy Chief

Minister. indianexpress.com/ article/india/nitish-kumar-swearingin-live-updates-jdu-bjp-lalu-prasadyadav-congress-sushil-kumar-modibihar-tejashwi-4768847/)
Now see the second oath taking chart.


The tenth lord is with the ninth lord and the tenth house is aspected by Jupiter in the navamsha.

In the dashamansha , the tenth lord Jupiter is again aspected by the tenth lord confirming again court battles which may not upset the government of Nitish Kumar.

( 30 July 2017)