I never thought that I and people of my generation will live to see an India in which the world of glamour will enslave the nation at the cost of higher and better values of life as now is happening in India. I cannot grudge it but still it is only my interest in sports which creates a point of identity with younger generation of Indians. In my American tours when I found the abysmal ignorance among the Americans I met, and pitiable it was, of many what I thought were more important aspects and events of world , I failed to establish the type of rapport that is needed between a visiting teacher and an enthusiastic audience.
Back home in fifteen years I found India getting swept by the Los Angeles like craze where I found younger Americans talk of Marily Monroe as though she was living and was still a living legend.
But now in India, we have a generation of educated people who come to study astrology and use their knowledge of this great subject to predict the outcome of the events like the Academy Awards as though it was equal to Nobel Prize. Glamour and entertainment is now superior to classical subjects, music , literature and ancient culture. You meet younger Indians who have never read the Mahabharata, the Ramayana, the Geeta or the Srimad Bhagvatam and many of them have not even heard about them.
You ask them about Shah Rukh Khan etc and they will reel off stories after stories and, if they learn astrology, even make predictions about them.
Here is one such instance, a case of brilliant prediction by a woman student who got a silver medal in our astrology examination, Acharya, is a very keen and successful astrologer now and a keen reearcher.
From: B@yahoo.co.in>
To: knrao@mail.com
Subject: slumdog millionaire and oscar
Date: Sat, 21 Feb 2009 22:01:11 IST
Respected Sir,
Pranam,
Thanks for giving your precious time for going through all my mails and giving the necessary suggestions. This mail is regarding....winning of slumdog millionaire in oscar, Award ceremony starts at.....5.30am(IST) ,23-2-2009, chances of winning.....100%,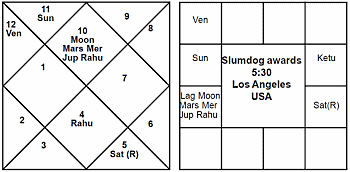 Reasoning......transit chart of 5.30am(23-2-2009)
ANALYSIS, CAPRICORN lagna rising. 11L is exalted in lagna .
11L is with 6L in lagna. (for gain in any type of competetion connection between 11H&6H is must),

VENUS (significator for entertainment) is exalted in 3H(neighbour) It means that entertainment award will be coming from out of the country,

In D/9 .....again connection between 11H,6H&3H is made, 11L is in 2H with 3L aspected by 6L from 8H. (6L in 8H..forming vepreet raj yoga.) (6L,VENUS is in SAGGITRIUS..sign of gazetted seal), A.R.RAHMAN music of this film "JAI HO" has been making waves, So, JAI HO of the indian cinema at international forum. Please guide,
Regards,
B
And she proved right if you look at the results.

Danny Boyle wins, Slumdog takes home 8
I can, and have to, congratulate her.
Appendix
From: B@yahoo.co.in>
To: knrao knrao@mail.com
Subject: Re: slumdog millionaire and oscar
Date: Mon, 23 Feb 2009 10:42:55 IST
Respected Sir,
Pranam,
Sir "JAI HO",
OSCAR FUNCTION IS JUST OVER. Clean sweep for SLUMDOG MILLIONAIRE. EIGHT AWARD out of NINE nomination. Awards are; 1....BEST SOUND MIXING. 2....BEST ADAPTED SCREENPLAY. 3....BEST CINEMATOGRAPHY. 4....BEST EDITING. 5....BEST ORIJINAL SCORE.(JAI HO) 6.....BEST ORIGINAL SONG(JAI HO). 7....BEST DIRECTOR. 8....BEST PICTURE. Sir, another INDIAN FILM get an OSCAR for SHORT DOCUMENTARY named SMILE PINKY.
Regards,
B