She had come with her father to meet me and took some predictions. She was running the mahadasha of Rahu in the fourth house with the tenth lord Saturn. The antardasha was of Ketu in the tenth house. Time for career rise. The coming pratyantara dasha from March would be of Mars in the twelfth house.
In Chara dasha it would be Meena Kumbha Vrisha from February 2008. Amatyakaraka in the twelfth house like Mars in the twelfth house in Vimshottari dasha is showing a foreign posting.
Read this letter.

From: Pgi p@gmail.com
To: knrao .com
Subject: Re: P's birth details
Date: Wed, 14 May 2008 20:13:55 IST
Dear Sir,
In the first week of October 2007 I had come to visit you along with my dad. At that time you had told me that I am likely to be transferred to a country outside India but within the same firm. The same happened recently. In the last week of March -08 I relocated to London and am sending this mail to you from London. I wanted to ask you ......
Thanks & kind regards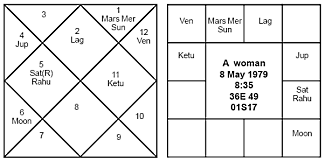 | | | | | | | |
| --- | --- | --- | --- | --- | --- | --- |
| Ak | AmK | BK | MK | PK | DK | GK |
| Venus | Sun | Saturn | Jupiter | Moon | Mercury | Mars |
Now remember she had come with her father and she is a Hindu girl. She did not ask what she wanted to and I never told her. She has asked it now.

What is her question ?

Remember, Mars is also the seventh lord. She has someone in her life and she did not open out in the presence of her father. It is obvious. From Vrisha the darakaraka, Mars is also aspecting the seventh house.
Postscript: I put the question here about attraction towards someone outside her country of birth and also the person being outside her caste, a consideration
which becomes important for Indians, particularly Hindus. She answered it thus.

From: P <@gmail.com>
To: knrao l.com>
Subject: Re: P's birth details
Date: Thu, 15 May 2008 16:37:27 IST
I met somebody based out of London through an arranged marriage proposal in the first week of January '08 while I was in India. This person is outside my caste. We kept in touch over mail and phone. Though, after I relocated to London, he has been very confused and we haven't met except two or three times. Other than that there is nobody else.

regards
P

On Thu, May 15, 2008 at 11:41 AM, knrao
<knrao@.com> wrote:

P,
Are you in love with someone outside
your caste etc ?
K.N.Rao.