A topical discussion on the performance of Roger Federer will be apt today in view of his defeat in the French Open. More than thirty years ago, I used to do manual calculations to know the outcome of a match in which an individual's performance mattered. (read End of Roger Federer Era )
In games like tennis, table tennis, badminton etc, this method gave me a very high percentage of successful predictions. I stopped doing it as it ruined my enjoyment of a match.
Today I told S to do since he is a bright astrologer and a keen sports lover like me. I am not saying that this or any method is infallible. "S" is a gifted astrologer and has a string of very successful predictions. May be someday he will discover a superior astrological technique of predicting the outcome of matches. If he does, he should not reveal as games have been gamblers's delight more than sports lovers'.
Federer was running Mercury-Mercury-Ketu-Rahu-Saturn. In Chara dasha, it was Dhanu-Kumbha-Mesha-Kanya-Meena.
From Meena Atmakaraka is in the eighth house. First see the exchange of email letters between us.
From: knrao knrao@.com
To: "s" r@yahoo.com
Subject: Re: french open final
Date: Sun, 08 Jun 2008 18:35:27 IST
Sji,
If you work up the fifth level of dashas, it is not easy for Federer. Anyway, the match is going to begin and will be interesting.
K.N.Rao.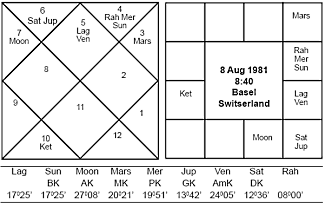 From: s r@yahoo.com
To: knrao@.com
Subject: french open final
Date: Sun, 08 Jun 2008 15:01:18 IST
Sir, pranam
To know the outcome of french open final , I have gone through your article in Journal of Astrology, Jan -Mar 2008 issue . I come to know Roger Federer is under Mercury-Mercury-Ketu . In Rashi Ketu is in the 6th House aspected by Lagna Lord Sun , YogKarka Mars and 5th Lord Jupiter. After 15th May , indicating very good period for competition .
From Dasha Lagna Cancer , Ketu is again aspected by Yogakarka Mars , 9th Lord and 6th Lord Jupiter and 3rd Lord and 12th Lord Mercury. Sun is also aspecting Ketu . Cancer is also Sun Lagna .
From Moon Lagna, Ketu is again aspected by 3rd Lord and 6th Lord Jupiter , 9th Lord and 12th Lord Mercury 2nd Lord and 7th Lord Mars and 11th Lord Sun ( which is 6th from 6th ) .
Dispositer of Ketu is Saturn in multiple Raj Yog as writtten by you on page 11 of Journal of Astrology, Jan -March 2008 issue. In Navamsha , Ketu is in own rashi , whose dispositor Jupiter is in 9th House aspected by Venus , the 9th Lord of Navamsha , showing honour in foreign land . Mercury is conjunct with Lagna Lord Sun in Rashi and in Navamsha is the Lagna lord aspected by Moon . He should win the French Open .
Regards ,
S
The match The first set was one sided with Roger Federer going down without a fight. In the second set in the beginning till two games, Federer seemed to have got the upper hand. But Nadal had his own plans which worked. Federer was succeeding so long as his angular shots in the mid court worked. Soon Nadal made it deep baseline play. But Federer, the champion was showing his greatness throughout, not going down tamely. It was 2 all and then 3 all. After winning the second set after some fight from Federer, in the third set Nadal was at his most aggressive and brilliant best, it was difficult to believe that at the other end was world No.1 Federer.
Running away to five games to nil was the worst insult ever heaped on Federer. 6-1. 6-3 6-0 is a terrible story of Federer's failure and collapse.
But this method is also unscientific and unsatisfactory because we do not have the horoscope of Nadal. Like the horoscopes of politicians which we do not get or get wrong ones, we struggle with the correct horoscopes of sportsmen also.
(8 June 2008)