In 1940
Just Venus-Rahu period was ending, Saigal decided to move to Bombay as the New Theatres, Calcutta, had run into difficulties. This change was excellent from monetary angle but the congenial atmosphere he had in Calcutta was gone. He continued with his great films in Bombay. Jayant Desai's Tansen has been one of the greatest ever musical films India produced and the great song, Diya Jalao, Baag Laga Doon Sajni. based on classical music showed how this untrained singer could reach classical heights like any Ustad of a gharana.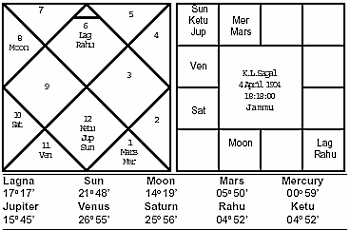 A question often asked by admirers of Saigal always is whether along with song, the other one "Sapta Suran teen gram" in the same film, could ever be excelled. In Bombay two great pictures, his last were Shahjehan and Parwana in which, according to Naushad, the music director, Saigal sang without drinking. It was his Venus Jupiter period and the great Saigal era in Indian films which had begun in 1932 was drawing to its end. Jupiter the seventh lord was acting as a maraka and his health deteriorated fast. When Saturn was in Mithuna in 1916, he had lost his voice and a kind Mahatma had initiated him into a spiritual sadhana. In 1946, Saturn entered that area again with his unfailing message of imminent death.
The noble man
It is a rare tribute to the memory of an actor that many who knew him personally
should be remembering him as a great singer but a greater man. They have happy memories of his singular kindness, his dislike of social inequalities and snobbery, utter contempt for monetary values in human relationships Jupiter is conjoined with Sun and aspects his lagna and the Moon, covering his horo-scope with total Jupiterian nobility.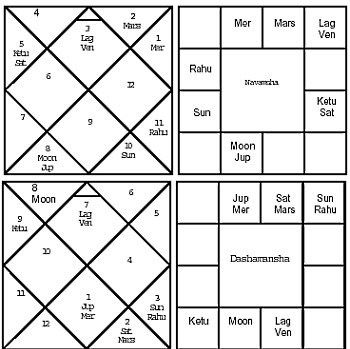 If his father admonished him when he was in his teens it was for his unworldliness, if his wife asked some relation or the driver of his car to make sure that the money he received was brought home it was because of his uncontrolled generosity in gifting away whatever he had to the poor and the needy.

During his Calcutta days one day someone saw him enter the studios without his usual dress and the coat he wore. He had seen some poor man in the street in a half naked condition and shivering in cold and he gave his coat to him. It is recorded somewhere that once in Calcutta, when he was walking in a street, he heard a favorite song of his being sung by a singing girl from her chamber. He went there and saw an old woman singer with cracked voice and recognized her at once as one whom he had heard in some other station in his teenage and was inspired. The old woman is said to have gone in an inner room to dress herself properly. Without waiting for her, Saigal, put all the wads of currency notes he had in his pocket there and left. Once in Bombay he was invited by a rich man to sing at his house on the promise of payment of Rs. 25,000/- which was a large amount in the early forties of the twentieth century. But he chose to go and sing in the marriage of the daughter of the watchman of the studio where he worked. K.L. Saigal was a saint first and a singer later.

In Jaimini it is clear that in the dasha of Vrischika with Jupiter, Ketu and Sun in the fifth house, he did his sadhana intensely after which his voice seemed to have changed, coming as it did, from the depth of his navel. In yoga they describe it as madhyama or pashyanti level which gives a spiritual vibration to one's voice and goes deep into the recesses of the heart of a spiritually inclined listener.

Surendra, Mukesh, Durrani, Jagmohan, Hemant Kumar and C.H. Atma tried turn by turn to emulate him, imitate him , excel him and all failed in the sense that no one allowed the great singing idol called K.L. Saigal to be thrown off the high pedestal on which he had been placed.

In the changed times and tastes, evaluating the merits of his yogic voice, the ring of spirituality is neither done nor possible. We live in an age when pop music, titillation, sex worship, crooning, loud orchestra accompanying play back singing have come in a tidal sweep obliterating the memories of those good old days when men had so much spirituality combined in their day to day life.

To transport K.L. Saigal from that era into the present one and evaluate him from the standpoint of the present generation and its preferences is an act of violence which we must refrain from doing. And we must remember that celluloid immortality is not historical immortality. One may even ask with the exception of some connoisseurs of music, if Ustad Karim Khan, Omkarnath Thakur, Ustad Fayyaz Khan, Ustad Allaudin Khan, among so many great singers and instrumentalists of a bygone era are immortals at all.
Shadows of death
The first child of Saigal was a daughter, Neena who said "Neena recalls Saigal had a friend, Nyaya Sharma, who was a palmist and an astrologer. Sharma had predicted that Saigal would pass away in 1947 and he had even mentioned the exact month - January. And Saigal did pass away in January 1947.

Neena says that a year before passing away, Saigal had taken to prayers and stopped eating meat, but, he would not give up drinking. Saigal also got into the habit of climbing up onto the terrace of his building, before dawn, and singing songs like: Is juthi maya ke karan, heera janam gavayo. Hari bina kao kam na ayo. (A precious life has been wasted in the false Maya). These were spiritual songs which shows how he felt with a deep sense of detachment inside him that the life of pursuit of material pursuits and film career was only a manifestation of Lord's Maya. He had gone astray and wasted his life.

Additionally, Saigal would frequent the crematorium at Shivaji Park in Bombay. He would just sit there and would often distribute rotis to the dogs. Neena recalls, "Mummy would be upset," but Saigal would merely say: "My time is also very close."

In Chara dasha it was the mahadasha of Mesha, the eighth house and the antardasha of Mithuna, which is his Karakamsha. In Jaimini's Sthira dasha, it was the dasha of Simha, sixth from Brahma, Sun, and the antardasha of Dhanu of sudden illnesses also.
1.Saturn in Mithuna had made him a Yogi in 1916.
2.Saturn in Meena in 1937 and Rahu in Vrischika on his birth Moon had made him a Bhogi.(enjoyer of life)
3.Saturn in Mesha (1940) had made him a Rogi (sick man).
4.Saturn in Mithuna again in 1945 revived the somnolent Yogi in him, now preparing for his death in a beautiful way. I had done pinda daan for him in Jagannath Puri with mahaprasad in 1962.