During my brief trip to Bangaluru towards the end of May 2013, Sri A.R.Hebbar narrated an incident he had read in a newspaper about Margaret Thatcher and Chandraswami as revealed in some excerpts from a book of Sri Natwar Singh reproduced in the Hindu newspaper. Later I traced it out and read it and thereby hangs a tale.
Sri L.M.Singhvi
The late L.M.Singhvi, an eminent jurist who was also Indian High Commissioner in UK told me once that Mrs. Thatcher had told him that Indian astrologers were fantastic. I had asked Sri Singhvi whether he would give me that account in writing for use in an article.
That never happened as some days after that he died. Sri Singhvi had come once as our chief guest in an astrological convocation of the Institute of Astrology of the Bharatiya Vidya Bhawan, New Delhi and he used to take astrological consultations from me about himself and his family members.
Now the narration comes in the shape of a "prediction" of Chandraswami who is not an astrologer though Mrs. Thatcher, not knowing what astrology is, might have mistaken what Chandraswami told her for an astrological prediction.

Wrote Sri Natwar Singh " Early in the summer of 1975, Mr. Chandraswamy telephones me. He was in London. The late Yashpal Kapoor had asked him to contact me, Chandraswamy invited me to meet me at his place. I said if he wished to see me, he should come to India House. This he did the next day. At the time he was in his late twenties. He was in his "Sadhu" attire. He did not speak a word of English. Now he does.
At this, our first meeting, he dropped names. After a few days he again come to see me. He invited my wife and me to have dinner with him.
The food was delicious. After dinner he said to us, "I will show you something you have never seen". He then produced a large sheet of white paper and drew lines from top to bottom and left to right. Next he produced three strips of paper asked my wife to write a question on each strip, make a ball and place each one on a square on the chess board. My wife wrote the questions in English. He closed his eyes and went into a trance. I was, by this time getting restless. Suddenly he asked my wife to pick up any of the paper balls. She did so. Opened it. Chandraswamy then told her what the question was. He was spot on. My wife, who is an amateur astrologer, was sceptical at this stage. When Chandraswamy got the next two questions right, she was amazed and interested. I was intrigued. I could not, as a rationalist, accept mumbo-jumbo. Neither could I dismiss Chandraswamy as a complete hoax." (Extracted from K. Natwar Singh's new book "Walking with Lions — Tales from a Diplomatic Past," HarperCollins)
My Comment
Sri Natwar Singh had consulted me in 1984 and after I assured him that he could retire from Indian Foreign Service and jump into politics because he would win elections and become a minister in the central cabinet, he did retire from the government and became a minister. I have many horoscopes of his family and he believes in astrology. He and his wife were introduced to me by the late Raja Dinesh Singh. Mrs. Natwar Singh takes keen interest in astrology or took such keen interest those days.
Sri Natwar Singh continues the narration thus:
"A few days later Y.B. Chavan, the then External Affairs Minister was on his way to the United States. I went to meet him at London's Heathrow airport. He confirmed he knew Chandraswamy well. I also told Chavan that Chandraswamy had asked me to arrange a meeting with Lord Mountbatten and also with Mrs Thatcher. Should I arrange these meetings? To my discomfiture and surprise, Chavan sahib saw no harm in Chandraswamy meeting Lord Mountbatten or Mrs Thatcher."
My Comment
Those were the days when Chandraswamy had penetrated into political circles through his patronage of late Sri P.V.Narasimha Rao, later the prime minister of India. Chandra Swami's original name is Nemi Chand Jain and he had known late Sri Narasimha Rao from his days as the chief minister of Andhra Pradesh. Being in foreign service and posted outside India, Sri Natwar Singh may not have known about it.
Sri Natwar Singh further states
" I rang up Lord Mountbatten. He said he would have been glad to meet "your friend", but he was leaving for a holiday in Northern Ireland the next day. I was quite relieved. I informed Chandraswamy. What about Mrs Thatcher?" ( Same book)

Then somehow inspite of the apprehensions of Sri Natwar Singh the meeting was arranged and Chandraswami did the same as he had with Mrs Natwar Singh (her name is Harminder Kaur, is the daughter of the late Maharaja of Patiala and elder sister of Mr. Amrinder Singh the former chief minister of Punjab.)
The narration that follows now is very interesting" Mrs Thatcher — "I am waiting." The clock was ticking away. Chandraswamy was in no hurry. He asked for a large piece of paper. Went through the same routine as with my wife. He gave Mrs. Thatcher five strips of paper and requested her to write a question on each. She obliged, but with scarcely camouflaged irritation. Chandraswamy asked her to open the first paper ball. She did. He gave the text of the question in Hindi. I translated. Correct. I watched Mrs Thatcher. The irritation gave way to curiosity. Next question. Again bull's eye. Curiosity replaced by interest. By the fourth question the future iron lady's demeanour changed. She began to look at Chandraswamy not as a fraud, but as a holy man indeed. My body language too altered. Last question. No problem. I heaved a sigh of relief. Mrs Thatcher was now perched on the edge of the sofa. Like Oliver Twist, she asked for more. Chandraswamy was like a triumphant Guru. He took off his chappals and sat on the sofa in the lotus pose. I was appalled. Mrs Thatcher seemed to approve. She asked supplementary questions. In each case Chandraswamy's response almost overwhelmed the future Prime Minister. She was on the verge of another supplementary, when Chandraswamy regally announced that the sun had set. No more questions. Mrs Thatcher was not put out. She enquired if she could meet him again. I was entirely unprepared for this." ( Same book)
Mesmerized Mrs. Thatcher
Then what happened is what happens to anyone who gets mesmerized by such phenomenon, particularly a woman. Mrs. Thatcher was no exception. Small siddhis are enough to enslave you mentally for some days, months or even years.
"What followed was something out of a weird novel. Just as we were about to leave, Mr. Holy Man produced a talisman tied to a not so tidy piece of string. He then pronounced that Mrs Thatcher should tie it on her left arm when she came to my house on Tuesday. I was now on the verge of losing my temper. I said I would not translate this dehati rubbish. Mrs Thatcher intervened to know what the holy man was saying. "Mrs Thatcher, please forgive me, but Chandraswamy would like you to wear this talisman on your left arm." She took the talisman.
We were saying our goodbyes, when Chandraswamy produced his sartorial bomb. Turning to me he said "Kunwar Sahib, kindly tell Mrs Thatcher that on Tuesday she should wear a red poshak. I felt like hitting him. He was overdoing this. I firmly told him it was the height of bad manners to tell a lady what she should or should not wear. Mrs Thatcher looked a bit apprehensive at this not so mild altercation between a distraught Deputy High Commissioner and a somewhat ill-mannered holy man. Very reluctantly I said to her that the holy man would be obliged if she wore a red dress on Tuesday. I was looking down at the floor as I said this. ( Same book)
The "prediction" of Chandraswami
What happened after this and the prediction Chandraswami had given to Mrs. Thatcher is the soul of this narrative.
"On Tuesday, at 2.30, Mrs Margaret Thatcher, leader of the Conservative Party, arrived at Sun House, Frognal Way, Hampstead. It was a beautiful day. She was wearing a stunning red dress. The talisman too was in its proper place.
She asked many questions but the most important related to the chances of her becoming Prime Minister. My wife was also present. Chandraswamy did not disappoint Mrs Thatcher. He prophesied that she would be Prime Minister for nine, eleven or thirteen years. Mrs Thatcher, no doubt believed that she would be Prime Minister one day. Nine, eleven, thirteen years was a bit much. Mrs Thatcher put one final question. When would she become a Prime Minister? Chandraswamy announced — in three or four years. He was proved right. She was PM for eleven years." ( Same book)
My comment
This was in the summer of 1975. After three or four years clearly meant the antardasha of exalted Saturn in the lagna and the mahadasha of Rahu in the tenth house, both in kendras from each other. It proved correct.
After reading this I remembered late Mr.L.M.Singhvi and thought it is what Mrs. Thatcher may have meant by saying that Indian astrologers were fantastic.
Many Indian astrologers have made good predictions about the prime ministers of England and presidents of USA (long before any poll surveys came out) if their horoscopes were available. I myself made two successful predictions about Tony Blair and one about Gordon Brown after their correct horoscopes, unlike those of Indian politicians, were made available. Similarly successful predictions about US elections and even the decline of USA have been made in advance.
Rahu in Karka in kendra or trikona
Anyone who knows astrology can see why the Rahu mahadasha of Mrs. Thatcher had to be the best period of her life. Rahu is in Karka in the tenth house like Mahatma Gandhi's, also Tula lagna with Rahu in the tenth house but with Moon. Rahu in Karka has been praised by Maharshi Parashara and we know that Sri Atal Behari Vajpai with Vrischika lagna and Rahu in Karka also rose high and became the prime minister of India in this period.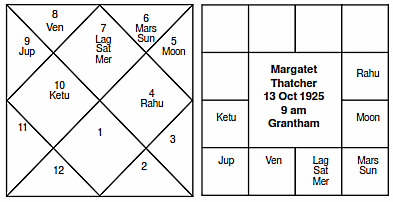 Rahu Mahasasha
17 Sept 1972 to 1990
Mrs. Thatcher fell as soon as this mahadasha was over. In the Jupiter mahadasha she was sent to the House of Lords.
Mrs Thatcher died on 8 April 2013 in Saturn Ketu Ketu. Those who believe in the superstition called Kaal Sarpa Yoga should see that it was in the mahadasha of Rahu and she became the prime minister of England twice. And for those scoundrels of astrologers (one of them even said that there is Kaal Sarpa Yoga in Jaimini !!) it will be a lesson in astrology to study this horoscope of George Bush also with a similar combination and he became the president of USA twice.
What is the Truth ?
In Delhi, some people have the experience of meeting sadhus coming here in winters descending from the Himalayas and some of them play the same trick and ask you to write the name of a flower on a piece of paper, fold it and they tell it exactly. After that follow other questions. It is a minor siddhi which many sadhus have.
Astrologers with Chandraswami
Then how did Chandraswami tell Mrs.Thatcher about her future rise? Many people including Sri Natwar Singh do not know that Chandraswami consults many astrologers, gets horoscopes of important politicians, famous actors , famous billionaires analyzed and makes good use of such readings.
My experience
Let me narrate an experience. In 1979 when I was posted in Delhi, the late Raja of Maqsoodpur, (J.K.P.N.Singh) had taken me to him on the insistence of Chandraswami and I had asked him why he wanted to meet me. He told me that he wanted to know about the astrological future of some of the prominent politicians of that era. Earlier I had asked him what type of sadhana he had done and he had boastfully told me that he had done the sadhana of Sri Yantra most successful as only one or two in India had done.
I had then asked him that after a successful sadhana of Sri Yantra why did he need the services of astrologers to know the future of politicians. He was confused, had no answer to my question and I never met him after that but a friend of mine, a good astrologer doing Krishnamurthy paddhati spent more than five years with him along with others, earned enough money or even prospered. He too, like other astrologers , knows that Chandraswami made good use of astrological readings. He prepares himself well in advance with the help of astrologers before meeting important people some of whom he boasted of meeting like Adnan Khashogi which is what Sri Natwar Singh calls name dropping habit of Chandraswami. Chandraswami had given me his own horoscope with Karka lagna with Saturn in it with a 1947 or 1948 birth of his.
The hypocrisy of politicians
The hypocrisy of politicians all over the world seems to be that after even taking successful predictions from astrologers or men with minor of major siddhis they never acknowledge it. Sri Natwar Singh, as though, adds a tailpiece here.
Sri Natwar Singh's tailpiece
"This narrative should have ended here. But there was an aftermath. The Commonwealth Summit was held in Lusaka, Zambia in 1979. Mrs Margaret Thatcher had by then become Prime Minister. I had been posted to Zambia in August 1977. Along with other High Commissioners I went to Lusaka airport to receive Mrs Thatcher. When she greeted me and my wife, I gently whispered "Our man proved right." For a moment she looked flustered. She took me aside, "High Commissioner, we don't talk about these matters." "Of course not, prime minister, of course not," said I. (Extracted from K. Natwar Singh's new book "Walking with Lions — Tales from a Diplomatic Past," HarperCollins)
Another tailpiece
I had met in the house of Sri Natwar Singh in Delhi sometime before 1990, an Irish psychic, a very courteous gentleman who after a peg or two or some wine , went into a trance and told me that he saw me standing in a court of law in a crowded room addressing the judges. I was surprised and in 1990, 1991 I did appear in the Supreme Court as a petitioner in person in the reservation case (Mandal Commission Report) in the crowded room of the Chief Justice of India and in November 2003 again as a petitioner in person in the astrology case. My name is mentioned in the reports of those cases. I was surprised when the gentleman psychic had foretold it as I am not a lawyer. The Irish psychic had , I remember, suffered a terrible tragedy when during the second world war his house was destroyed in German bombing and some of his family members were killed. That tragedy deepened his inner life and he had developed his psychic abilities.