What is your prediction about Indian achievements in the Olympics 2016 of Rio de Janeiro asked someone. I answered that I had never made any prediction though I have followed it since 1948. The reason, I explained, is I consider India to be BPL in world Olmpics----below poverty line.
To the question why, my answer was to look at the poor record of India in these Olympics since 1900 to date.
- ZERO MEDAL in 1920, 1924 was in colonial India but in free India in 1976, then a hatrick for next three ones in 1984, 1988 and 1992 SIX ZEROES
- ONE GOLD MEDAL ONLY
1928,1932,1936,1948, 1952, 1956, 1980 ( SEVEN all in hockey)
- ONE SILVER MEDAL ONLY
1960
- ONE BRONZE MEDAL ONLY
1996, 2000
- TWO MEDALS
1952 (ONE GOLD AND ONE BRONZE)
-ONE SILVER ONLY
2004
-SIX MEDALS
2012 TWO SILVER AND FOUR BRONZE MEDALS (NO GOLD MEDAL)
Remember that India has no tradition of competitive sports as explained in the piece RIO REGRETS AND INDIAN INDIGNATION.(16 August 2016, 6:31 AM )
The astrological reason for this is explained.
You must also remember the tragic life of the fine and great sports after they retire. Read this about a great hockey player of India,"On a somber note, Zafar also remembers the reclusive Shahid of later years, post retirement, who rarely left the town of his birth, Varanasi. "He never got his due, or that much out of hockey. It was another unique thing about Shahid ... he never crossed the Laxman-rekha , you can say. He was confined. I don't know what it was exactly, probably it was his psyche. There were some problems, and sadly it dragged him down." http://timesofindia.indiatimes.com/sports/hockey/ top-stories/Left-side-story-Zafar-Iqbal-on-the-genius-of-Mohammed-Shahid/articleshow/
USSR achieved so much during the cold war days as China has been doing now-- achievements in sports in Olympics is soft weapon, a weapon of power. Remember even during the famous Fisher vs Spassky chess championship, Henry Kissinger had rung up Fisher and told him that prestige of USA was at stake in that championship.
We have to console ourselves with a news item like this and hope and hope and hope that India's zero score will be wiped out (17 August 2016). Yes, it has been wiped out, it has been done by Sakshi but after entering Repechage rounds.
22:08 (IST)
Wrestling Update! Sakshi Malik's Bronze medal hopes alive after she enters the Repechage rounds, thanks to Valeriia Koblova reaching the Final. Koblova had beaten Sakshi Malik in the quarter-final
21:15 (IST)
Wrestling Updates: Breaking! Sakshi Malik loses. Incredible counter from Russia's Valeriia Koblova. Malik loses 2-9 in her quarter-final bout.
20:40 (IST)
Wrestling Updates: Breaking! Vinesh Phogat is seriously injured and she can't continue, she has conceded the bout. Sun Yanan advances to semis. Sun Yanan went for a take down and lead 2-1 but in process Vinesh got injured and she seemed to be in a lot of pain. Looks like a knee injury. She is being stretchered off now.
20:24 (IST)
Wrestling Updates: India's Sakshi Malik beats Mariana Cherdivara 5-5, she won it on criteria (4 point take down). Sakshi moves into the quarters now.
20:01 (IST)
Athletics Update: Tintu Luka finishes 6th in Heat 3 with SB timing of 2:00.58 in 800m Heats, fails to qualify for semi-finals. she started off well but then the strategy backfired.
19:18 (IST)
Wrestling Updates: Vinesh Phogat wins by technical superiority. She takes the bout 11-0 against Emilia Alina, this, after an early injury scare. What a brilliant bout. Vinesh into the quarterfinal now.
16:15 (IST)
the Repechage rounds, thanks to Valeriia Koblova reaching the Final. Koblova had beaten Sakshi Malik in the quarter-final
Then early in the morning of 18 I read the news"
Rio Olympics: Wrestler Sakshi Malik wins India's first medal - bronze in 58kg freestyle Aug 18, 2016, 02.58 AM IST
Rio Olympics: Wrestler Sakshi Malik ends India's medal drought with a bronzeRio Olym-pics: Wrestler Sakshi ...
RIO DE JANEIRO: Gritty woman wrestler Sakshi Malik ended India's painful wait for a medal at the Rio Olympic Games by clinching the bronze in the 58kg category, pulling off a sensa¬tional 8-5 victory over Aisuluu Tynybekova of Kyrgyzstan in the play-off bout, here. The 23-year-old from Rohtak became only the fourth woman athlete from India to win an Olympic medal as she earned the dramatic win after falling behind 0-5 in the do-or-die bout on day 12.; "
"It's in the women's section, we have got the first medal for India," said an ecstatic WFI president Brij Bhushan even as he hugged her in joy.
The achievement added to my vocabulary "the Repechage rounds", Indian Olympic officials must have been relieved that 2016 was better than 1920, 1924 was in colonial India but in free India in 1976, then a hatrick for next three ones in 1984, 1988 and 1992 SIX ZEROES. (see the score given earlier.
The Hindustan giver her photo with the great tricolour flag and this report "She prevailed 8-5 in a late comeback defying the early 0-5 lead of her opponent.
"I was all along confident. I always felt I would win. I did not back down and kept pushing. This is historic for Indian women wrestlers," said the elated 23-year-old after the win. "This is the result of over ten years of hard work. I feel proud and special that I could get this medal for India."
03:38 AM (IST)
With that bronze medal, India make their appearance in the medal tally at the 70th position
Look at the list and you will understand that in Olympics, India is BPL.
Indian politicians will turn it into a debate and the NDA will answer it saying , 2016 has been better than the score of Indira Gandhi (two zeroes) Rajiv Gandhi (one zero) P.V.Narasima Rao.(one zero) after Indian Independence.
Two "S"s , Saina and Sania let us down and now one "S" Sakshi" saved India's prestige. We will wait for the other "S" Sindhu to get us one more bronze or silver today in badminton. HOPE, HOPE and HOPE.
How do you explain it astrologically. First, always first see the national horoscope. It is the antardasha of Mars with no connection of let us clarify, placed as the twelfth lord of the horoscope, also placed in the twelfth from the mahadasha running, the Moon.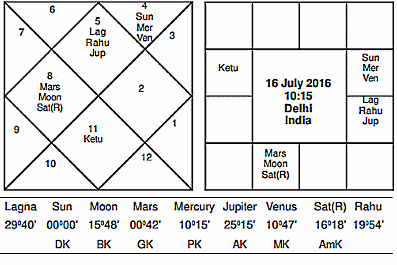 The third lord goes into the twelfth lord from the lagna.
But the nation is relieved. See what the cricketer Asvin and actor Bachchan say now.
"Ashwin Ravichandran ?
@ashwinravi99
#SakshiMalik has made India proud.Wrestling in India gets another big boost.#Rio2016
3:34 AM - 18 Aug 2016
Amitabh Bachchan ? @SrBachchan
T 2351 - #Rio2016 and the women of India doing us so proud .. especially in the wresting ..Sakshi you made us proud Indians !! COME ONNN !! 2:58 AM - 18 Aug 2016
Now see the two Soorya Veedhi charts, of July-August when the great Indian contingent of more than 100 Indian participants with a large team of officials left for RIO DE JANEIRO.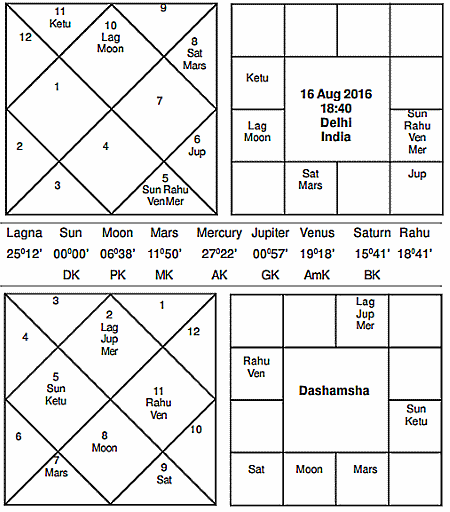 The third lord in the ninth house aspects its own house and Sakshi got us a medal only after this. The third lord, Moon debilitated is aspect by Jupiter, the eighth and the eleventh lord and Mecury, the second and the fifth lord. So it improved and Sakshi, one Haryana girl got us, we a nation of one hundred and thirty crore people of India, one bronze. We can hope to get more with P.V.Sindhu in good form, we can expect her to get us silver or gold.


Now again see the Soorya Veedhi chart of August when the zero score ended and the national is rejoicing !!! But then remember that Indian cricket team is ranked as number one now and will retain it if beats West Indies also in the last Test. :4th Test: India eye win to retain top spot"
All this comes in the second half of the month of August, in the second soorya veedhi chart. And the baffling hysterics of women anchors of Indian television channels were intenser in the second chart also.
Finally, remember always---if you want to search the name of India in the long list of win¬ners of the medals start it from the bottom of the list.
(17 /18 August 2016)