The mahadasha of Moon, the third lord with Saturn, Venus, Mercury and Sun in the third house of Indian Independence horoscope aspecting the ninth house along with Mars from the second house , is the period of achievements in so many fields particularly in space and communications but on the negative side of skirmishes with neighboring countries including China, some of them serious ones to look like a war.
The occasion to write this is a prediction circulated virally about a serious war between India and Pakistan from 15 October 2016 in which the astrologer has predicted a very definitive action by India to put an end to Pakistan's nefarious design to be a constant irritant by bringing in the Kashmir issue time and again. Taking a very alarmist view of all this and creating panic through it led to ABP Hindi news channel asked me about it and I said that it was like a kabbadi match which has been going on for more than six decades ever since Kashmir acceded to India in October 1947.
I did not feel it necessary to take an alarmist view but future years will show more serious border clashes till it leads finally to a war in 2020 which will be a culmination of all this---a damaging war. It means that years of peaceful coexistence with unpleasant border clashes are coming to an end.
Writing this became necessary because the issue of India's surgical strike in Pakistan Occu-pied Territory on the night of 29 September has become a hot controversy in the political circles of India. ( see the Appendix)
A write up on this reads thus
"
Sabre-rattling has hit an all-time high on both sides of the border after Pakistan-based terrorist group Jaish-e-Muhammad attacked a brigade headquarters in Uri+ on September 18. Nineteen soldiers were killed in that attack."
The three neighbours, India, Pakistan and China will be involved in border skirmishes which will culminate into a war in 2020 as the horoscopes given show. China and Pakistan are
friends and it can be surmised that seeing its friend Pakistan in trouble, China will open an aggressive front against India most likely on the Himalayan border.
India has the antardasha of Mars, Rahu, Jupiter and Saturn in her Independence horoscope.


Pakistan's situation, worse than India's , because of the mahadasha of the seventh lord, Venus will face both border skirmishes and revolt in places like Baluchistan which now gets open support from India, and gets some international sympathy from USA.


China passing through the mahdasha of Saturn in the eighth house , will pretend to be neutral but will become mischievous and continue in that manner till it is exposed. See this instance of China's clear favour it does to Pakistan " India's permanent representative to the UN, ambassador Syed Akbaruddin, told the UN General Assembly that the 15- nation Security Council, the "principal organ" tasked with the maintenance of peace and security, has in a variety of ways become unresponsive to the needs of our time and ineffective to meeting the
challenges it is confronted with

On March 31 this year, China -- a veto-wielding permanent member of the Security Council -- had blocked India's move to put a ban on Azhar under the al Qaeda Sanctions Committee of the Council." (http://www.hindustantimes.com/india-news/ india-criticises-un-security-council-for-not-sanctioning-jaish-chief-masood-azhar/story-oAVhACxAskD0XJ9hKVeIxJ.html

The poisoned minds of Pakistanis will never accept that they have been taught distorted history like Pakistan existed since the eleventh century. So that hatred can not be removed now. Hear Najma Sethi and Hassan Nissar in You Tube to know it .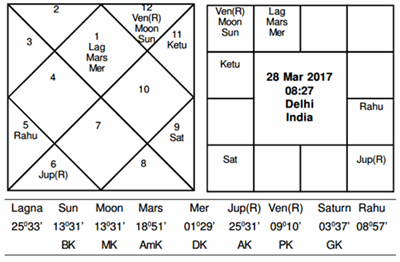 Mars in the lagna shows serious war
like situation with Mercury the third
and sixth lord Mercury shows serious
border clash.
The result of it all will be that there border clashes will look like seeds of world war third. Now see the four Chaitra Shukla Pratipada
horoscopes of India and draw your own conclusions after reading my comments against each of the horoscopes, birth, navamsha and dashamansha.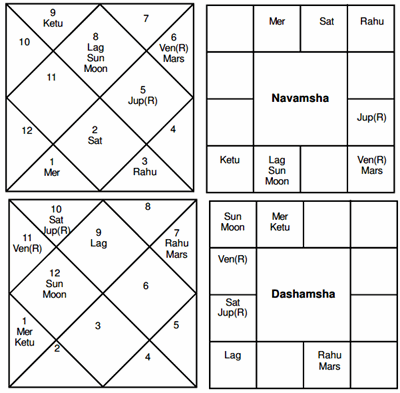 In the navamsha, Mars the sixth lord with Venus the seventh lord of war is
not a happy indication of good
relations with neighbouring countries. Mars aspecting the seventh lord Mercury and getting aspected by in the preceding two horoscopes of the year 2017.
The common disasters both in India and Pakistan will be devastating earthquakes starting with the year 2017.
But in the meantime a first rate crisis involving freedom of press have engulfed Pakistan. Read this piece http://www.dawn.com/news/ 1288350/exclusive-act-against-militants-or-face-international-isolation-civilians-tell-military
ISLAMABAD: In a blunt, orchestrated and unprecedented warning, the civilian government has informed the military leadership of a growing international isolation of Pakistan and sought consensus on several key actions by the state."
Why should the government of Nawaz Sharif refute what the entire world knows to be true about Pakistan. Terrorists, disliked all over the non Muslim world, are manufactured in Pakistan and now by ISIS and it does isolate Pakistan. Civilians telling the mighty army of Pakistan is big news and should be taken as warning of Pakistan getting isolated. Only China , its all weather friend, will stand with it because of its hostile relations with India. There is no doubt, as also visible astrologically, that China will not miss this chance for creating trouble for India and India's border skirmish with it will resemble a war.
The journalist of the Dawn which carried this story, Cyril Almeida, a Parsi of Goa who has made Pakistan his homeland, may be shot dead , Pakistan being what it is. He has already been put on Exit Control List. The patronized terrorists like Sayed can roam freely in Pakistan and a distinguished journalist is treated like this. In the meantime Almeida has tweeted thus "
cyril almeida @cyalm
Puzzled, saddened. Had no intention of going anywhere; this is my home. Pakistan.
6:38 AM - 11 Oct 2016
780 780 Retweets
Times of India commented thus on these developments.
"He even seems to have retained a sense of humour.
Follow cyril almeida @cyalm
"Ur very famous in the airport. Ur name plastered at each immigration officer's desk. A big A4 sheet with just your name." - 'sources' say
12:47 PM - 11 Oct 2016
305 305 Retweets 373 373 likes
In a note on its website, Dawn said it stood by its story, and added that "the elected govern
ment and state institutions should refrain from targeting the messenger". Clearly, its advice fell on deaf years.
Almost prophetically Almeida had said "I don't see a very bright future for Pakistani journalism" When he uttered these words a year ago during a visit to Goa, Cyril Almeida may have had no idea that the future he was talking about would come true in less than a year.
D P SATISH, OCTOBER 11, 2016
The prime minister, Nawaz Sharif, shaken after the leak of Panama papers, seems to have recovered his position after this episode and let us hope on this Vijay Dashami that he avoids hostile relations with India and works for the economic development of his country and lets India concentrate on its own economic front.
( 11 Oct 2016 Vijay Dashami)