I had already hinted at the victory of Hillary thus in June on this website thus:
APPRAISAL OF MUNDANE PREDIC­TIONS - 2
KN RAO
25 June 2016, 8:16 PM
Who will win Clinton or Trump is a question which can be answered if an undisputed horo­scope of Hilary was available. One horoscope of her used by Shalini Dhasmana in 2001 predicting good future has proved correct so far as she became a Senator and United States Secretary of State. Now in the mahadasha of Moon in her tenth house and antardasha of Jupiter the tenth lord aspecting the tenth house are not her chances bright on the basis of this horoscope?
( 21 June 2016)
Note: Rodden mentions the birth time thus"
Hillary Clinton : herself, according to
Ingraham biography - natal chart (Placidus) Hillary Clinton : herself, according to
Ingraham biography
- Alternative birthtime herself, according to Ingraham biography
Date 26 October 1947 at 20:00 (= 8:00 PM )
- Place Chicago, IL (US), 41n51, 87w39
- Timezone CST h 6w (is standard time)
The reason why I accepted this horoscope used by Shalini Dhasmana is that this horoscope alone, not from other lagnas, shows her study in political science and law, the extraordinary rise of her husband, Bill Clinton, twice the president of USA and her own political rise. One of the events for verification is that in 1992 there was pain in her marriage ( one of the many) when Gennifer Flowers scandal affected the reputation of her husband the presidential candidate of the Democrats.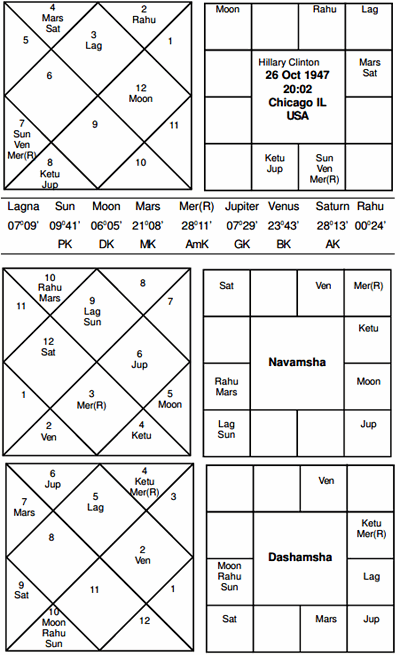 Rashi - Election being fought in her Moon Jupiter is most favourable as I had pointed out in June this year. But house, she will begin the antardasha of Saturn bad for her health. It may be worse for husband, Bill Clinton.
Navamsha - Moon in the sixth house here aspected by Mars, Mer and Ketu and conjoined with Rahu Sun shows her compulsion to get involved in a number of wars like attack on countries involved in their own fights.
Dashamsha - Moon in the twelfth house and aspected by Mars which is also aspecting the eighth house shows worsening health of her husband Bill Clinton.
Two debilitated planets in her horoscope, Mars and Sun, fall under the Parashara exception and her Mars is exalted in her navamsha. Her father's death in 1993 further confirms the birth time adopted here.
The other point
Whatever polls may indicate---Hillary winning outright is what we read---there is another view also from an Indian living in USA "l. k.
20 Oct 2016
Rao sir,
Debates are over and polls are suggesting that Clinton will win but I think trump has better chance based on the people's sentiments I speak to.
I don't think america or Americans are ready to accept a woman as president to begin with!!!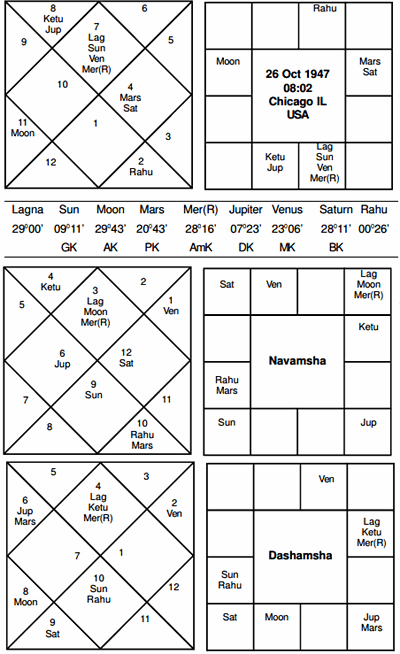 Rashi - Analyse yourself to see if this horoscope of Hillary is used, with the tenth house with a debilitated Mars with Saturn if she has any chance of winning at all. It will be the mahadasha of
Sun debilitated and antardasha Rahu in the eighth house.
Navamsha - The antardasha lord Rahu is again in the eighth house here.
Dirty US Election 2016
Dirty election it is: the election is not being fought on major issues , it appears, but on exposing each other's sordid sexual side being the point of emphasis in the case of Hillary of her husband's and in the case of Trump himself. See this one piece.
Who's creepy now? Trump attacks Joe Biden with Tweet of video highlighting Vice President's 'long his­tory of groping'
Republican presidential candidate Donald Trump is pointing to vice president Joe Biden's 'long history of groping,' after a long line of women has emerged accusing Trump of kissing or groping them. On Monday Trump retweeted a clip that combined the many times Biden has rubbed women's shoulders and even whispered in the ear of a senator's daughter during swearing-in ceremonies. The video, set to mood music that might be found in a 1970s skin flick, stitches together footage of Biden, known as a back-slapping politician when he was in the Senate, touching, massaging, and whispering to a number of women during televised swearing-in ceremonies there." http://www.dailymail.co.uk/ushome/index.html
Then some revelations against Hillary Clinton by Assange, which it was said, would tilt the election against Hillary, have been blocked. it is reported in the New York Times. Ecuador: We have 'temporarily restricted' Assange's internet
By GONZALO SOLANO and RAPHAEL SATTER
Oct. 18, 2016 7:59 PM EDT
London Embassy, Tuesday, Oct. 18, 2016. QUITO, Ecuador (AP) — Ecuador's government acknowledged on Tuesday that it cut off WikiLeaks founder Julian Assange's internet access at its embassy in London after the whistle-blowing site published a trove of damaging emails from Hillary Clinton's presidential cam­paign.
"The foreign ministry said that while it stands by its 2012 decision to grant Assange asylum based on legitimate concerns he faces political persecution, it respects other nations' sovereignty and doesn't interfere or support any candidate in foreign elections."
US press is also talking of the strange fact that while Republicans have been generally hostile to Russia, this time it is the Democratic candidate Hillary warning the world of the dangers of revanchist Russia. Since the planetary position of coming years is showing international tensions increasing the possibility of a Hillary victory fits into this pattern. It is clear from the horoscope of USA with Simha lagna and the coming the dasha of Rahu in the twelfth house showing US involvement on a much greater scale in international aggression.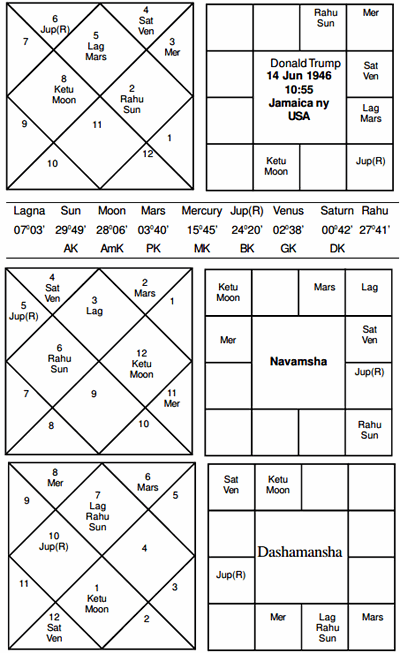 Rashi -Trump is fighting election in Rahu Mars, Moon. Moon is the twelfth lord, debilitated and aspected by Mars which is good but Moon is not strong enough to make his fight memorable being on the losing side.
Dashamansha - Moon may have improved here but Mars in the twelfth house is not helpful.
With the Mithuna lagna horoscope I stick to, I have been repeatedly insisting, and in writing from June 2016, that Hillary will be the winner in this election.
And I will also predict that world tensions will increase during her tenure but her own health will become worse.
Either she will not survive or become inactive. We will have something of a repetition of the times of the fourth term of President Roosevelt during the second world war.
It is also possible that after the elections Assange will be allowed to leak his emails. It may do damage to Hillary and a new controversy or even a threat of impeachment may prove dangerous for her.
(21 October 2016)