Print this page
ASTROLOGER'S CONFUSION AND SAINT'S PREDICTION
KN RAO
6 February 2017, 11:48 AM
Confusion has thickened thick among astrologers eager to make a prediction for the outcome of elections in five states whose results will be announced in March , next month. Most of the astrologers use the national horoscopes of both the BJP and the Congress party and have not hesitated to use even the horoscope of the AAP instead of the horoscopes of regional parties and not the horoscopes of national parties but their branches which are not available at all. But anxious to rush with their prediction and later claim, if it clicks like good fluke, "had I not said so" boast. One of them keeps killing famous figures. He has done so with Sushma Swaraj, the external affairs minister, Shankaracharya Jayendra Saraswati and boasted of it but has been lying low for some time.
Akhilesh Yadav (horoscope below)
When the elections come out he will be in Jupiter Saturn Mars period, not favourable one though in Chara dasha it is slightly favourable and it can give him the position of the leader of opposition. It can be seen in all the three horoscopes given here. But I am not sure about the correctness of the horoscope at all.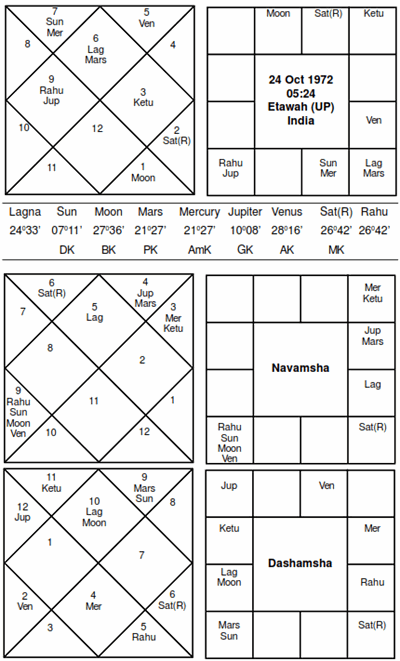 When I was asked about it I said that I had no material to make these predictions. The stray unconfirmed horoscope like that ofAkhilesh Yadav does not help much though it will throw some light. Amrinder Singh's horoscope in the case of Punjab elections shows him in a favourable light is all that can be said in the second fortnight of March when the results of these elections will be known.
In March 2017, the fortnightly horoscope it to be favourable for BJP and the Congress party. The horoscope of AAP being doubtful it is not being used here. But if the horoscope used by some astrologers of Makar lagna is used, this party does not appear to be in the race for the top position.
While this confusion remained, a woman student wrote to me about a saint she keeps meeting often and tells me about many of his remarkable prophecies. I have known some of them and must say that they have been remarkable. I asked her to ask him and she replied it thus.

" MA".
Feb 5 (1 day ago) Dear Sir, Pranaam,
As per discussion with Baba
Punjab Congress
Uttarakhand BJP
Goa BJP
Uttar Pradesh Likely BJP Plus Mayawati
(Written on 6th February 2017 9 pm)
Lunar Chart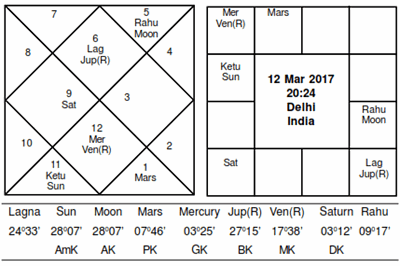 On 12 March and round about this time when the picture will become clear, majority of planets in transit are favouring the BJP while to some extent also the Congress party but not the AAP so loud in its claims and noise.

Keywords: KN Rao, Journal of Astrology, Bharatiya Vidya Bhavan, Horoscope, Jyotish, Hindu Astrology, Indian Astrology, Vedic Astrology, Saturn, Venus, Rahu, Ketu, Mercury, Rashi, Navamsha, Pakistan, BJP, Congress, AAP, Akhilesh Yadav, Punjab, Goa, Uttrakhand, Uttar Pradesh