One has only to see the news channels of India full of sensational news directly on three high profile cases and indirectly on the fourth one. The most sensational among them are the CBI raids on houses of P. Chidambaram and his son Karti. Chidambaram has been the former Home and Finance minister of India. (http://www.hindustantimes.com/india-news/leaders-won-t-be-cowed-by-bjp-s-politics-of-revenge-congress-after-chidambaram-raids/story-hhAWBIphVrfjG9YUKcSHuO.html)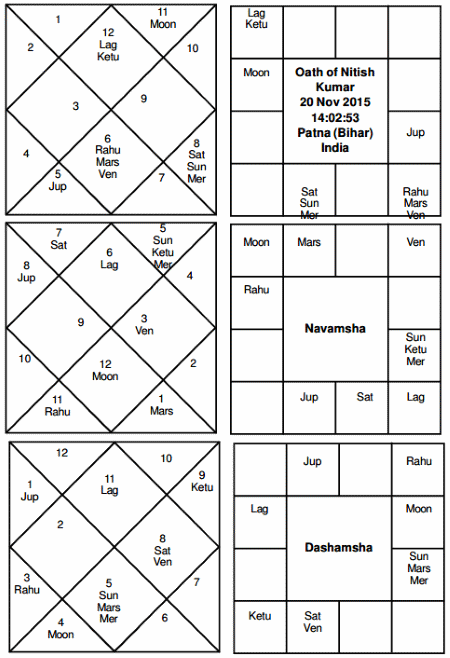 Second is the much more sensational benami land deal case of Lalu Prasad Yadav, where raids are being carried out in 22 locations in Delhi and NCR (http://www.hindustantimes.com/india-news/ lalu-raids-a-look-at-how-the-benami-land-deal-c a s e - u n f o l d e d / s t o r y - XwYnCQ3fpQSVMlWJXmN96J.html).
As a reaction to this, Lalu Prasad Yadav even tweeted cynically, congratulating and hinting at Nitish and BJP getting into a new alliance. Does it mean that Nitish government is going to suffer a big change after dropping alliance of RJD (of Lalu Prasad Yadav). With BJP supporting it, to lend it stability, it will have an alto­gether different political alliance.
It will mean BJP gaining immense control on Bihar government, which in turn will beneficially influence NDA gov­ernment in choice of a President.
The oath taking horoscope of Nitish Kumar on 20 Nov 2015 shows the 10th lord in 6th house aspected by Saturn. Does it not show the break up of his alliance partner ?
The relentless pursuit by the government, to check chit funds, running into billions of rupees, said to be connected with TMC leaders will create serious problems for Mamata Banerjee in Bengal. (http://www.indiasamvad.co.in/ investigation/trouble-for-mamat a-corporates-b-town- celebs-involved-21025)
Raid on Chidambaram's house also ropes in Peter Mukherjea of Sheena murder case. Karti, son of P. Chidambaram, was engaged by INX Media Pvt. Ltd., formerly owned by Peter and Indrani Mukherjea.
But, the subject of this article is what to expect in world affairs from the most powerful nation of the world i.e. USA.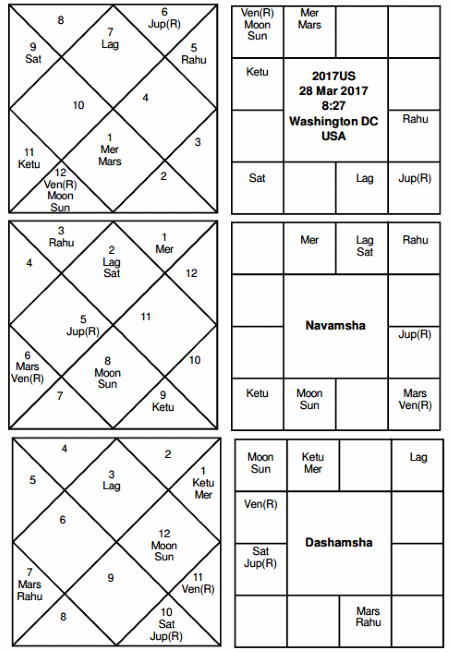 USA horoscope clearly shows its war mongering intention as Mars and Mercury in the seventh house of war clearly indicates. Conjunction of Mars and Mercury is the clearest indication of it being an attack on the adherence of a particular religion as Mercury is the 9th lord of religion; in a place far-off from USA as Mercury is the 12th lord. Now, who can it be - ISIS or Syria!!, to break what USA thinks is a nexus between Iran and Syria, both getting support from Russia.
A combination like this becomes a precursor to a future big war, more global and resembling a world war. It then means that in year 2017, seeds of a future world war are being sown.
President Trump, not known for moderation and verbally very violent, may annoy many of the members of his own Republican party and run into crisis.
(https://www.nytimes.com/2017/05/15/us/poli-tics/trump-russia-classified-information-isis.html?emc=edit_ty_20 1705 16&nl=opinion-today&nlid=62078864&te=1)
In this Hindu New Year horoscope of USA, 10th lord in 6th house, with retrograde 8th lord Venus, aspected by retrograde 6th lord Jupiter does not augur well for President Trump, who may provoke his own party members to impeach him.
This becomes more ominous in dashamsha, where 10th lord Jupiter is in the 8th house, conjunct with 8th lord Saturn and aspected by 6th lord Mars where Mars is in Mrityubhaga.
Some of the policies of Trump may lead to attack on USA on its own territory, something resembling in a minor way, the incident of 9 September 2001. In dashamsha, 4th lord Mercury, at Rahu Ketu axis, comes under the influence of 6th lord Mars.
There is nothing unusual in USA making such attacks. Some years ago, Arundhati Roy had written an article showing how USA has been involved in four to five wars every decade, since the end of World War II. Even during the eight year rule of Obama, US did attack some countries outside USA. In the case of Trump now, these attacks may increase.
In Simha lagna horoscope of 4 July 1776, Mars-Moon period will begin in early 2018, followed by Rahu in the 12th house. Starting from 2017, USA seems to be preparing to get itself involved in wars with other countries for a long time now.
Signs are quite ominous.
(16 May 2017)