Some months ago a saint of Vrindavan who takes lot of interest in Indian and world affairs had told a woman, a student of astrology and highly placed executive in a firm, that in Karnataka elections the BJP would win and form the government. Yesterday (6 May) she told me that another saint had also said that the Karnataka elections will see a BJP government in power.
Two saints at two different time gave the same prediction while the poll surveys clearly give to the Congress party a clear advantage of more than twenty seats over BJP .

," the survey shows. May 7, 2018 7:19 PM Karnataka is likely to throw up a hung assembly with the ruling Congress emerging as the single largest party, ABP News-CSDS opinion poll has projected.
Read more at: https://www.oneindia.com/india/karnataka-election-live-it-is-an-election-ofcrorepatis-2671932.html
Some astrologers have already predicted a Congress government while the BJP leaders have been claiming to win this crucial elections.
The astrological basis for making predictions in state elections is always very thin as we have neither confirmed and authentic horoscopes of the contesting chief ministerial candidates nor of the regional party horoscopes of the Congress party and BJP in this case. In any case, the predictions given by some astrologers hint at the Congress doing much better than the BJP like the opinion polls.
The thinnest basis I have for an astrological prediction in this case is the horoscope of Yedurappa passed on to me by a late astrologer of Karnataka, Sitaramiah.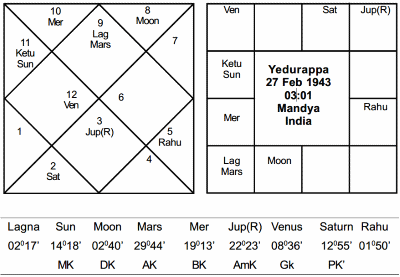 If this horoscope is correct, (this doubt arises because someone has used Vrischika lagna also for this politician), Yeddy as he is called is passing through the dasha of debilitated Moon placed in the twelfth for Dhanu lagna. It clearly falls under a well known exception of Parashara and is rajayoga giving promise.
In Jaimini Chara Dasha it is the mahadasha Kumbha from where the fifth and eleventh houses have AK and Amk and in the present antardasha when the elections are being fought, it is the Kanya antardasha promising a big raja yoga as AK and Amk cover the fourth and tenth houses.
I avoid giving predictions in the cases of state elections but here apart from my very thin basis my interest is to contrast the predictions of two saints one of whom predicted many months ago, when there was no poll survey, about a BJP victory and another saint gave it as late as now in the first week of May.
( 8 May 2018)