21 November 2015, 10:02 AM
"It is ludicrous to pretend that Islamism has nothing to do with Islam. It has everything to do with Islam." In the very same speech, Mr. Khan said the Paris terror attacks were carried out "in the name of a sick and evil ideology, a grotesque and perverse worldview which has nothing to do with the Islam that I know." That is nonsense. It is ludicrous to pretend that Islamism has nothing to do with Islam. It has everything to do with Islam and that is precisely why it has such a potent appeal to so many young Muslim men and women. As any scholar of Islam will tell you, the ideology behind ISIL and al-Qaeda is as rooted in the Koran as are daily prayers and eating halal meat. Like Christianity, it just depends which verses you care to read and how literal an interpretation you choose to give them.
read more...

18 November 2015, 11:28 AM
Those who have not read the history of the origin and spread of religions in the world cannot understand why this will never be solved . Till the adherents of one of these religions involved in this global threat are reduced to absolute poverty, weakened and the attraction of their oil wealth gets depleted almost totally the world will keep on suffering. Till then the western powers and USA the economic imperialists of the twenty first century will not stop their dangerous political games which started with Sykes–Picot Agreement world came to know of after the Russian revolution of 1917.
read more...

19 September 2015, 7:05 AM
In tennis, the crazy Indian fans are mostly males, with their favorites among the great foreign players and extremely fanatical and sentimental in their adoration of their favorite players one of whom Roger Federer is the supreme icon they worship. Understanding a fanatic fan who does not see brilliant performance of the opponent of his favorite player with objective judgement is difficult and a fatuous attempt. Why not appreciate both objectively ? Fanaticism is an incurable disease like religious fundamentalism.
read more...

30 August 2015, 10:28 AM
It was first of its kind broadcast message by Prime Minister Narendra Modi – an appeal for calm in his home state Gujarat. The message delivered in Gujarati with photo frames of two most famous Gujaratis, Mahatama Gandhi and Sardar Patel in the backdrop, is indicative of the magnitude of the social and administrative crisis that has set in the state. The sudden emergence of the phenomenon Hardik Patel who is demanding Other Backward Caste (OBC) status and consequent quota benefits in government jobs and educational institutions for
economically prosperous, socially and politically dominant Patidar community has caught Gujarat and the nation by surprise.
read more...

27 August 2015, 8:58 PM
Certain questions arise which our politicians never want to face and answer it all being opportunistic politics.
a) Are those who can capture political power and suppress and even oust upper classes from the corridors of power socially backward?
b) Many of the backward classes of earlier decades, now well educated and in high positions in bureaucracy and politics socially and educationally backward ?What awaits the nation then ? The question is pertinent because the coming mahadasha of Moon shows some remarkable achievements in space and other scientific areas but in the socio-economic sphere with huge political repercussions, it is an ill augury for national peace.
read more...

29 July 2015, 5:51 AM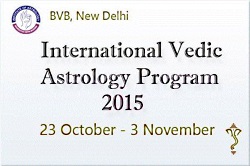 The International Vedic Astrology Program , 2015 will be held at Bharatiya Vidya Bhavan , Copernicus Lane, Kasturba Gandhi Marg, New Delhi-110001 from the 23rd of October, 2015 to the 3rd of November, 2015.
Some new researched predictive techniques developed in the Institute of Astrology will be shared with the participants.

read more...

20 June 2015, 6:39 PM
The late S.K. Kelkar of Pune had taken up around forty or fifty cases of marriages performed when Jupiter was in Simha and found nothing wrong. A conference of astrologers was held sometime in 1990 in Delhi and it was unanimously decided by astrologers that based on their experience there was nothing wrong in performing marriages during this period. Then in 2003 we published a book
SIMHASTHA BRIHASPATI OR JUPITER IN LEO
with seven women astrologers doing a research under my guidance by taking up as many 146 horoscopes of people married during Simhastha Brihaspati or Jupiter in Leo and the conclusions arrived at after an elaborate analysis was as given here from that book..
read more...

30 May 2015, 4:24 PM

The other day some astrologers sitting at my place spoke again of the correct horoscope of Atal Behari Vajpayee telling me that three astrologers found it an occasion recently to write about his horoscope insisting that it had to be and was, Tula (Libra) lagna. I told them not to waste their time to search the horoscopes of Indian politicians and now, of Indian cricketers, ever since under 18 cricket has become so important for the shaping the careers of these cricketers. I will not reel off their stories excepting telling here that one famous contemporary cricketers now described as 25 years old is actually 29 years. Thereby hangs a tale which had better remain untold.
read more...