Some astrologer friends of Karnataka with whom I have been in touch in the last few years have been passing on to me the horoscopes of the leaders of Karnataka about whom I know so little. For these friends, the fate of some of the Karnataka politicians is of topical and immediate interest. One of these friends had passed on to me some months ago the horoscope of Dharam Singh when he (Dharam Singh) was the chief minister and asked me about his fate.
I predicted his fall without verifying his horoscope which I could not have done. Dharam Singh fell. On other occasions he passed on some horoscopes on which I gave some successful predictions except one in which case I committed the mistake of seeing a wrong horoscope. Ever since the BJP had been facing some crisis in recent months, Karnataka became a focal point and the fall of Yedurappa seemed imminent according to the powerful and prejudiced electronic media of India for reasons well known to us.
This friend passed on the horoscope when Yedurappa was said to be a candidate for the post of the chief minister of Karnataka. I had predicted the success of Yedurappa.The prediction was given on the basis of the horoscope of Yedurappa as passed on without any correction of birth time which again I could not have done.
Some days ago, this friend rang me up and asked me whether Yedurappa would survive. I said that he would, on the basis of the horoscope I had, which he had passed on to me last year or year before.
Having given the prediction I too went on watching the unpleasant developments. It was of
course unpleasant because Hindi news channels give everything else except news and English ones have a crowd of egocentric prattlers with the spokesmen of different parties brought in to utter their un-incisive and unintelligent defenses of their party positions and opinions. I prefer religious channels which offer something elevating and inspiring even.
This friend rang me up on the evening of 8 November and told me that Yedurappa had survived which the electronic media covered with unabashed brevity. My reasons for the prediction were simple and straight.
A report reads thus


On birthday, Advani helps end Yeddy row
RADHIKA RAMASESHAN
New Delhi, Nov. 8:
As he turned 82 today, L.K. Advani seemed to receive a foretaste of the role that awaits him after his impending retirement, when his intervention helped break the Karnataka deadlock. Chief minister B.S. Yeddyurappa and dissident leader Janardhan Reddy smiled for the cameras this morning by the side of Sushma Swaraj, at whose home the deal had
been reached. A more detailed story is at http:// www.deccanherald.com/content/34868/bsyrebels-bury-hatchet.html
Astrological reasons
Yedurappa is passing through the dasha of Sun vargottama and well aspected by Jupiter offering some protection. The antardasha is of Saturn in the sixth house of fight to survive. In the dashamansha Jupiter again aspects Saturn again in the sixth house of survival.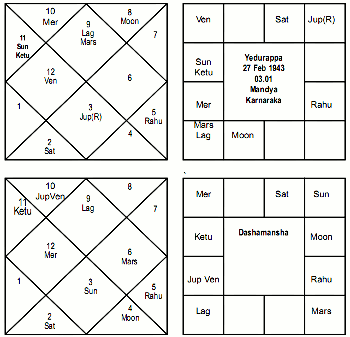 AK

Mars

AmK

Jup

BK

Mer

MK

Sun

PK

Sat

GK

Ven

DK

Moon

In Chara dasha it is Meena Vrischika which showed the two eighth axis in which
Atmakaraka and Amatyakaraka aspect each other and with some surprising truce with dissidents will be made as Gnathikaraka aspects this combination. The transit of Saturn in Kanya aspected by Jupiter is protective at the moment. But then how long ? The electronic and print media have no sound explanation for its prejudiced coverage of this event.

I have kept politicians away for some years after being pestered by them for nearly three decades and now ask a question: WHICH IS THE SECOND DIRTIEST GAME IN THE WORLD.


( November 8 2009)




Here is an acknowledgement.
From:s r <s99@.co.in>
To:knrao@.com,
Subject: Prediction again come out true
Date: Mon, 09 Nov 2009 13:55:56 IST
SHIMOGA
9-11-2009
GURUJI NAMASTE ,
I CALL TO GURUJI ON 28-10-2009 BY PHONE TO KNOW ABOUT THE CRISIS OF KARNATAKA STATE BJP POLITICS AND THE POSITION OF B.S. YEDYURAPPA CHIEF MINISTER OF KARNATAKA. AFTER ANALYSIS GURUJI REPLIED THAT " B.S. YEDYURAPPA WILL SURVIVE THIS TIME".
ON 8-11-2009 BJP ENDED ITS 21 DAYS OLD CRISIS AND B.S. YEDYURAPPA IS NOT REPLACED FROM CHIEF MINISTER POSITION . GURUJI'S PREDICTION AGAIN COME OUT TRUE.
R.S
SHIMOGA.
KARNATAKA.