Predictions given about some politicians as to who will become prime minister of India is more like natal astrology than mundane as most of the astrolo- gers do not link it to and fit it into the larger astrological picture of mundane astrology. But the internet is now having a flood of claims of astrologers taking credit for having made such prediction.
There has been no research in mundane astrology to predict the rise and fall of the prime ministers of India except one small piece by me (plagiarized by an astrologer who published his name on it and did not even a change a comma from my article) and none at all about the combinations for prime ministership. No known astrological text gives any such combination because these texts were written during the days of monarchy when democracy did not exist in India.
It is only trikalagna mahatmas who can make such prediction with no precise details about the time, date or place of such people becoming so important in national life. Some such instances have been given in the article of Pammi Barthwal.
How do astrologers predict then ?
It is only when we know the names of the contesting candidates and get their correct horo- scopes and of their political parties that we can venture into this area. Therefore what appeared in the television debates among astrologers and was published in newspapers about Vasundhara Raje or someone else becoming the prime minister of India is more for our amusement than for any astrological learning. In the hit or miss process some astrologer gets credit and most do not for a successful prediction.
NDA coming to power
Many astrologers may have predicted about NDA forming the next government because the horoscopes of these parties are available and it therefore has a scientific basis. But none of these astrologers have produced any research to make it all scientific.
In a workshop on 18 May in the Bharatiya Vidya Bhawan I explained to the students how and when governments change and get replaced by other political parties and why NDA had to come into power as I had predicted in January 2013.
Between 1970 and 2014 only one prediction of mine about Indian general elections failed and that was in 2004 when I wrote my piece after the poll surveys came out and the boast of late Pramod Mahajan about India shining.
In 2013 I took the precaution of doing it in January 2013 and no poll survey influenced my astrological judgement.
Narendra Modi
About Modi becoming the prime minister the only one who made the prediction in advance is Ajai Rai Madan, my student, from Mumbai. He has a good collection of right horo- scopes which he takes pains to verify and rectify before venturing into prediction. The credit for predicting Modi becoming prime minister much in advance belongs only to him is what I know. I know of no one else who made this prediction.
As far as I am concerned I do not collect political horoscopes any more but the younger generation of astrologers writing on different web- sites, face book etc have grown wild and make unsubstantiated claims more to promote themselves fraudulently than in a genuine spirit of scientific research. They form groups, become abusive and do more damage to astrology in this process. None of them seems to have scientific temper and humility but do so more to promote themselves and create a market for themselves. These astrologers are also the agents of some jewellers and promote their trade.
Hospital Records
The second problem astrologers face is the search for the correct birth time of the celebrities they discuss. If a hospital record is available it should not be doubted and should be made use of and, if necessary, after making minor adjustment of time after rectification. Let me give some examples.

Sachin Tendulkar
The most glaring example is that The most glaring example is that of Sachin Tendulkar's in whose case the hospital record clearly shows 24 April 1973 at 12/59. This cannot be disputed. It is Karka lagna. A photostat copy of this was published in the DNA newspaper of Mumbai. After reading it I apologized publicly for using a wrong horoscope of Sachin Tendulkar and made no more prediction about him.
But not to accept the hospital record together with the date given is the height of stupidity and irrationality is what people must remember.
Modi's birth time
In the case of Modi we have no such advantage and therefore all the claims of different astrologers and their inflated egos about their possessing the correct horoscopes must be rejected outright. I have witnessed such battles among astrologers for many decades now and these in the face book era, it can only become ugly and uglier. Rest assured that in the case of famous Indian politicians they either do not know ther birth details or if they know it, they mislead people and astrologers without any prick of conscience.
Rahul Gandhi
The search for the correct horoscope of Rahul Gandhi must come to an end after the following news item in the Indian Express reproduced below.
Khaled Ahmed
The Indian Express
Updated: Fri, 1 Nov 2013, 18:36 IST- Delhi Underground: Meticulous records - Express News Service : New Delhi, Mon Oct 21 2013, 03:02 hrs. - Holy Family Hospital, which is celebrating its diamond jubilee, has meticulously maintained medical records in yellowing registers. Started in 1953 by missionaries, the hospital has witnessed the births of Rahul and Priyanka Gandhi. Both have been identified as "baby Sonia Gandhi" in hospital records. Sonia Gandhi, then 23 years old, gave birth to Rahul on 19.6.1970 at 2.28 pm. She was admitted to the hospital at 9.10 am the same day. Priyanka was born on 12.1.1972 at 5.05 pm. Both were examined by pediatrician Dr P N Taneja. Congress president Sonia Gandhi had congratulated the hospital in a one-page note that has now been printed as a souvenir of the hospital, produced for its diamond jubilee."
****************************************
Is the election result of 2014 in India sounding the death knell of the dynasty which has ruled India for so many decades intermittently starting with Nehru the accidental president of the Congress party in 1946 when the name of Sardar Vallabh Patel was proposed by majority of Provincial Congress Committees and none had proposed Nehru's?
The president chosen was to become the first prime minister of India and Gandhiji intervened and Nehru became Indian prime minister. Nehru eliminated the rivals to his daughter Indira through Kamraj Plan but died before seating her on the seat of the prime minister. Then after Indira, Rajiv succeeded her, again accidentally. No elections were held to elect the successor of Indira Gandhi. There and then should have ended this dynastic rule but the slavish Congress saw in the Nehru dynasty the glue that stuck always and followed it as droves of corrupt slaves.

Through manipulation Sonia succeeded in becoming the president of the Congress and the real power behind the puppet Prime Minister Manmohan Singh since 2004 which ended in 2014 after ten long years of unimaginative and disastrous economic policies in the second term of the UPA with it innumerable scams.
The Modi tornado has ended it now. Is it really the end or is Rahul the surviving scion going to stage a come back and restore the decimated dynasty ?
Horoscope of Rahul Gandhi
The horoscope of Rahul can be discussed in detail in future to see if he will ever stand the chance of restoring the power of the decimated dynasty he belongs to. One glance at the kemadruma Moon is enough to know how weak this horoscope is apart from other fatal factors.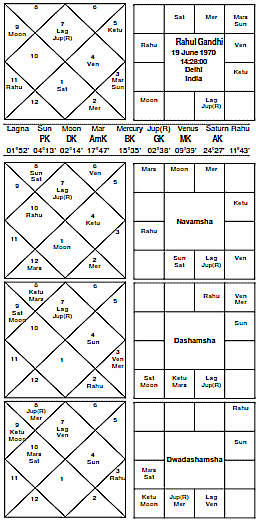 History is a cruel judge particularly if it is based on contemporary assessments given in day to day news and now, these days, on the opinions of television channels. Rahul Gandhi, the surviving scion of the Nehru dynasty has been the butt of many jokes through MMS and even in Twitter these days.
In the pursuit of her plans of dynastic succession, Sonia Gandhi relegated into background experienced politicians of the Congress party and pushed to the forefront her inexperienced and talentlessly unimpressive son during the elections of 2014.
Yet, when it comes to putting blame for the bad showing of the Congress party, Rahul has been protected and the blame is sought to be put on others particularly Man Mohan Singh, the departing prime minister, the puppet of Sonia Gandhi as clearly brought out in the book of Sanjay Baru, ""The Accidental Prime Minister".
In the horoscope given here of Rahul with his kemadruma Moon and unfavourable dasha sequence and the placement of the ninth lord in the eighth house does anyone see any high rajayoga leave alone his ever becoming the prime minister of India because of his birth in the dynasty which is now decimated and is vanishing ? I leave it to the younger generation of astrologers to work on it, discuss and predict in advance not claim falsely, retrospectively as has been happening.
( 19 May 2014)
Appendix
The expected pre managed and well anticipated drama took place today as reported here, The Times of India - Sonia, Rahul offer to resign from Congress posts after defeat, party refuses , TNN | May 19, 2014, 07.39 PM IST
NEW DELHI: Congress president Sonia and vicepresident Rahul Gandhi offered to resign from their party posts following its drubbing in the recently concluded Lok Sabha election. However, party members have refused to accept their resignation. Former Punjab CM and senior Congress leader Amrinder Singh said, "Sonia and Rahul offered to resign, but the Congress Working Committee Earlier on Monday, Ahmed Patel, Sonia's Gandhi's political secretary said "all, including myself, are responsible for the party's loss." "How can you blame any individual for this result? It is the collective responsibility of both the party and the government. All, including myself, are responsible for the party's loss," Patel has said in the wake of resentment in the party at the way Rahul ran the election campaign. .........Meanwhile, party leader Manish Tewari said the resignation of the party leadership in the wake of the poll debacle is not the way forward.