After many days I again wrote in advance before the arrival of the visitor the
following, doing a Bhrigu type reading, and asked him to go through quickly and put his remarks. Here they are.

PAGE 18 JULY/AUGUST 2007 CONSULTATION ON 30 AUGUST 2007
1. Your horoscope shows that you started your education in one line and changed over to another which can be psychology.

ANSWER
Interested in other subjects too.
2. You may have had a relationship with someone outside your community, country etc but it may have not been successful.

ANSWER
Yes.
3. Your father could be a rich person, occupying high position with good properties of his own.

ANSWER
Yes.
4. In your childhood, first five years did you move from one place to another and did you studies suffer on account of this movement?

ANSWER
No.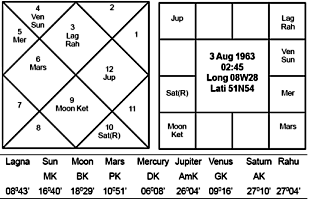 5. After 1968 and before 1977 how many times did you change your educational institutions and change also your subjects of study ?

ANSWER
Twice.
6. Between 1982 and 1987 what have been the changes in your career ?
ANSWER
I was a student from 1981 to 1987.7.
7. Between 1987 and 1999 your life underwent many changes and your interest in the spiritual may have deepened.
ANSWER
Yes. 1994 TM. I moved to foreign country. Father died.
8. Between 1999 and 2002 again there are changes in your career, some inheritance, some loss of money etc.
ANSWER

2001 I started working in senior job. No inheritance.No loss of money.
9 After 2002 till now have you had any health problem ?
ANSWER
Yes diagnosed in 1994. Serious heart problem. It continues.
10 In the same period have you made brief visits (till now) to foreign countries ?
ANSWER
Yes.
11. Your married life does not show stability or call it relationship. May be you are not married at all.
ANSWER
Not married
12. Similarly, it is not a very promising horoscope as far as children are concerned.
ANSWER
No. Children.
13. Do you have any elder sibling ?
ANSWER
Yes.
14. An attraction for some foreigner these days is visible.
ANSWER
Yes.
15. Are you proposing to buy or build some property ?
ANSWER
Possibly yes.
16. Some problem with cold and some scandal can affect you these days.
ANSWER
Job not very happy at present.