I had written in
MUSHARRAF'S UNCERTAIN FUTURE..
KN RAO 29 July 2007, 5:45 AM (This article written on 20 May appeared in the Star Teller of July 2007)
.... someone told me that the horoscopic details were wrong by one year and the lagna was Vrischika. One television channel repeatedly showed today that Musharraf rang up president Bush of USA who refused to take his call. That is in keeping with the American policy of use and discard dictators. Someone should compile the list of dictators whom USA used and discarded. But there are more and more foolish dictators awaiting to be let down by USA .
A former chief of ISI of Pakistan, Gul, who had helped USA in its fight against Soviet Russia in Afghanistan, had always warned , after he had been let down by USA when his "use" was over, that Musharraf should be careful as he was going to suffer a similar fate at the hands of USA. That has happened today.
In USA I used to hear of such a policy even in human relations. In India one is used to it particularly with some people of some areas.
Musharraf, the biggest darling of Bush some years ago, is today a disillusioned dictator, disgraced and seeking a safe refuge which Saudi Arabia may provide him.
It is now confirmed that the correct horoscope is of Vrischika lagna of 11 August 1942. If the time is taken as around 3 pm Venus will move into Karka.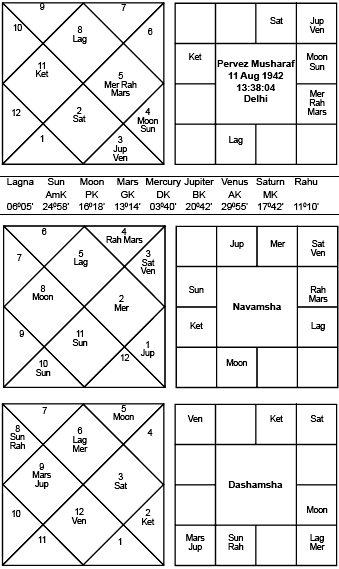 I told my students that I will prefer Venus in the eighth house in Mithun a and therefore could predict that he would be deserted by many and feel disgraced and forlorn as he is today. I further told my students that it is the dasha of Dhanu in Jaimini Chara dasha, the dasha of rise and fall. Here the antardasha is Makara and pratyantara dasha is again of Dhanu ending on 25 August 2008 before which he is now a fallen and disgraced man.
To his credit, Pakistanis must say that he improved the economy of Pakistan enormously during his tenure. Now it is in shambles.
He started as an enemy of India with his Kargil tarnished reputation and he was also insulted by Bill Clinton at the beginning of his tenure and now at the end of by another US president George Bush.
He came to power after the August eclipse of 1999 and has gone out of it after the eclipses of August 2008. Between two eclipses, insulted by two US presidents, the disgraced dictator of Pakistan will escape without being impeached because in the antardasha of Venus in Vimshottari and the pratyantara dasha of Jupiter, also in the eighth house, this great lover of cricket will move to a country where cricket is not played.

He is out hit wicket is the verdict of history. Many lovers of cricket in Pakistan will miss him. I had told a Pakistani woman who comes to Delhi to consult me that according to a horoscope of Musarraf made available to me (used here) the dictator was going out now. USA will wait for the next fool to step in to be discarded later. That is US history of international relations.
This is the way that life ends not with a bang but with a whimper.
( 18 August 2008)