Usually astrologers having ethics avoid
giving predictions related to speculation.
I am writing this just to uphold the capacity of
Hindu astrology & for the sake of national
interest. Of-course I am not revealing the total
technical secret.

The Hindu New Year chart of Sarvadhari
clearly reveals that the gold will be costlier in
future. The reasons are, Sun the planet representing
gold in mrityu bhaga & Jupiter in the
eighth house which represent gold.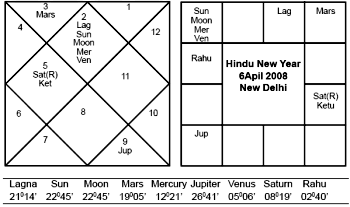 According
to, "Brihat Samhita ", represents gold (chapter
41& shloka 2). All these calculations show the
gold will be untouchable for poor or middle
class people.
According to some past data related to
down fall of gold in international market we
can observe the retrograde motion of Jupiter
and the bad placement of the Sun from Aries
and bad aspect of major malefic on Sun or
Aries (12 Jan 2004 to Feb 2004, 1/12/04 to Jan
2005, 15/May /2006 to 13/Jun/2006 which was
the highest downfall during the recent history
from 730 US $/Ounce to 560 US $ /Ounce.

These documents are collected from one of the
India's top commodity analyst who takes
astrological guidelines from me.

Readers can
visit the website www.safetradeadvisors.com.

On 14th of July of this year onwards the shining
of the gold is decreasing. But as earlier
mentioned by me it makes difficult the common
people to purchase gold, so the price of
the gold should increase after 8th of September
2008, when Jupiter's retrograde motion will
become direct.

Chapter 42 and shloka 6 of the Brihat
Samhita of Varaha Mihira clearly says the gold
should be purchased when the Sun is in Leo
and should be disposed only after 5 months,
which will enable to gain much profit. According
to me around Jan 2009 the price of the
gold will be around Rs. 13500/10gm. Or more!

So the profit will be around 25 to 30 % per
year at the least. Which bank or the financial
organization can give such big returns?

Our honorable Prime Minister Dr. Manmohan
Singh, advises the opposition party members
to change the astrologers. Of course they
should! ..... But simultaneously he should
realize that during the next elections his party
will perform very badly. The renowned economy
expert of India, Dr. Manmohan Singh
ji should look into such beautiful authenticity
of Hindu astrology.

So many temples like Tirupati,
Dharmasthala, Kollur Mookambika are having
enough funds as bank balance (fixed deposits),
which are billions of rupees. If the same
money used to purchase the gold, they will be
benefited very much. I don't know about the
money flowing into temples of north India.
The order should be passed by the PM himself
to purchase the gold with respect to the international
market.

But who will bell the cat?
Written on 20/08/2008 at 10 P.M.
By Shankar G. Hedge