At the end of 2005, there was a talk of the retirement of Saurav Ganguly, to date the most successful cricket captain of India who will be remembered for showing to Australians and to some extent cricketers like Flintoff of England their places time and again.
It hurt the foreign players and provoked the foreign press, particularly the Australian cricket journalists for whom a cricket match is a war and an Australian defeat a national disaster. Australians can be excused for it because Australia has all geography and no history except the cruel acts of wiping out the native population when criminals of England were settled there. The emigrees who settled later with more civilized background, I was told, brought doses of some culture. Yet, to this great sports loving nation, getting eclipsed in sports is a national disaster and you will rarely hear of Australian writers writing in a balanced way and pointing out the faults of their own cricketers.
There have been episodes involving Australian umpires and famous Gavaskar episode which the fast bowler Lilee refers now without any compunction. In the last tour of Australia, India was umpired out of the Sydney Test and I was reminded of what Keith Miller had written in 1960 when the West Indian team led by the great Frank Worrel was umpired out of what would have been a great West Indian triumph. It was a solitary case of a great Australian all rounder denouncing his own country men, particularly the umpires. That streak of aggression bordering on sadism and a sense of humiliation showing lack of sporting spirit never vanishes from Australian life ever. It became more evident in the Symmonds Harbhajan episode with Australians including Gilchrist with his notorious autobiography never understanding that a particular abuse which springs on the tongue of Punjabis can be misinterpreted as "monkey".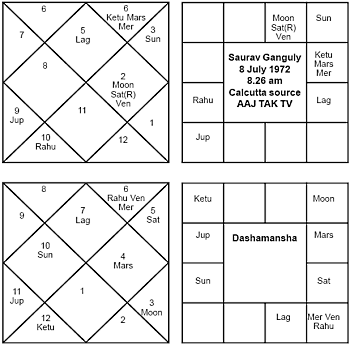 AtmaKaraka Venus, AmatyaKaraka Sun, BhratriKaraka Saturn, MatriKaraka Mercury, PutraKaraka Moon, GnatiKaraka Mars, DaraKaraka Jupiter





Jupiter Mercury dasha he should be in some dignified post as almost as a reprentative of an official body resembling an ambassadorial type of appointment. In Jaimini Chara dasha it will be Makar- Mesha- Mithuna from the end of November 2008 and Mithuna has his amatyakaraka Sun aspected by darakara Jupiter giving arajayoga.



Against this background, the retirement of Saurav Ganguly on a triumphant note today (10 Nov) after India convincingly defeated Australia 2-0 in the serious becomes memorable though like Eric Hollies bowling the great Bradman for a duck in his last test, Saurav too got out for a duck in his last test. Comparisons should not be made between that greatest cricketer who captained the team of invincibles and Saurav who shaped a downtrodden team into a team of warriors and had the satisfaction of seeing the climax of his work in the convincing Indian victory today.
In the whole story the Hindi television channels seems never to give up the description of Australians always as "Kangaroos" and not human beings as though the Test series was between two legged Indian cricketers and two legged Australians animals who also play cricket. Let me recall and reproduce what I had written earlier
SAURAV GANGULI AND HIS CRICKET CAREER
K.N.Rao.
I was asked by the AAJ TAK channel which has been having my astrological programme under DHARMA programme every Sunday morning at 9/30 AM and again at 4/30 pm what was my prediction about the future of Saurav Ganguli, the test cricketers of India, whose cricket career had run into crisis. I could not make any prediction unless I got Gauguli's birth details and birth time correct. I was promised that it would be collected from Calcutta and passed on me.
I got the following data.
From: Q W Naqvi
To: <k_n_rao
Subject: FW: saurav
Date: Wed, 21 Dec 2005 17:29:54 IST
Cc: "sanjeev chauhan" sanjeev.chauhan
-----Original Message-----
From: Aviijit Nandi Majumdar
Sent: Wednesday, December 21, 2005 4:51
PM
To: Q W Naqvi
Subject: saurav
Importance: High
hi sir,
As requested by u, Saurav ganguly's date of birth is : July 8, 1972, time of birth: 08.30 am, place of birth: Kolkata I have confirmed this from two astrologers of Saurav Ganguly; the names of the two astrologers have been provided by Saurav's mother and wife Dona. Kartik Banerjee and Swapan Das
rgds
avijit
WHAT I SAID ON 22 AND 23 DECEMBER 2005
I cast the horoscope on this basis and on 22 December I had my prediction recorded for Janmat Channel on 22 Dec,on 23 Dec for AAJ TAK and I also wrote annual predictions for the Pioneer for the year 2006.
"Saurav Ganguly's cricket career is not over. He will play against some international side in 2006 and play domestic cricket for some more years.
23 December 2005
Today (10 Nov) his careeer is over--the career of one of the five great ODI cricketers of the world and the finest Indian cricket captain todate. What is his future ? He is the greatest cricketer of Bengal, eclipsing Pankaj Roy the other only other cricketer from that state to have played for India for many years as an opener. Those days when Pankaj Roy played cricket as an opener of India, we were students and often wondered if any other opening batsman would score so many ducks and survive in Tests if he did not have powerful patrons in the Indian cricket board.
Saurav experienced both powerful patronage, maltreatment. He was maltreated and also discriminated against after Greg Chappel, an Australian coach, seemed to behave more rudely with him than was palatable. It was not surprising because his brother Ian Chappel also spoke and wrote against Saurav many times. Steve Waugh also behaved arrogantly and unreasonably in that true Australian spirit which showed that cricket was not a game but a war. It was Ian Chappel who converted sledging into a weapon of Australian cricket which Steve Waugh converted into a more unpleasant mental game. Greg Chappel was the third Australian who was after the blood of Saurav. It was in that period that the horoscope was made available when I had made the prediction that his career was not over and I am happy that he played for three years after that prediction of mine.
What then is his future ?
1. He will play in cricket matches still but not in Test of international cricket.
2. He will still be in news holding some non cricket post of significance.
Look at his horoscope and the analysis given opposite it.
( 10 November 2008)
TAILPIECE
Just as I finished writing this I remembered the joke cracked by someone.Greg Chappel coached Indian team which gave its worst performance in the World Cup. He coached his own Australian team ---and here is the report of the performance of the Australian team for which Ponting is being blamed