The story of Shani (Saturn) the great tapasvi , his head down, not even looking at the new born baby (Ganesha) of Goddess Parvati in one of the Puranas is an interesting story. And when he did see the child, the head of Ganesha got severed. In the life of good man with a spiritual bent of mind such a tormenting period is also notable for attachment to a higher ideal. Saturn first detaches from and then attaches and to....it depends on our karmas. That gift of Saturn is least noticed.
Saturn's transit in Vrischika or Scorpio have been periods of pain for India if in the Hindu New Year chart Mars afflicts the lagna, Sun or Moon also. Will Indian politicians and Indian voters think of a higher ideal? For a quick glance, let us recollect ...
1927 etc. years
Communal riots in India, particularly after the Khilafat movement of Mahatma Gandhi between 1921 and 1940 are well known blood stained chapters of pre partition India mainly, it is said, as a result of the mischievous British policies of divide and rule. With Saturn in Tula, the RSS was formed by Hedgewar after many communal riots had taken place all over India. After Saturn moved into Vrischika the terrible riots that swept all over India from Bengal to Lahore are recorded giving argu¬ments to Mohammad Iqbal, later to Jinnah for their demand for Pakistan.
1955 etc. years
The years of Nehru's decline had begun. There was no opposition to the Congress party and Nehru had become very unpopular and controversial with certain section of Hindus and some Congress men who dare not speak against him openly. Two events, preventing Purushottam Das Tandon, who had defeated Kriplani Nehru supported from functioning as the elected president of the Congress party, and the passing of the Hindu Code Bill instead of a common civil code had brought down the popularity of Nehru drastically. But there was neither strong independent opposition those days, nor television channels like these days to make a big dent into the reputation of Nehru and his pseudo secularism. Then came the agitations filled days of States Reorganiza¬tion and the first ever communist government in India was formed in Kerala in 1957. Nehru realized that his vote winning abilities were on the wane.
1986 etc
These are the years more fresh in public memory. In the post Indira Gandhi assassination period, Rajiv Gandhi swept into power with an unprecedented majority but frittered it away in many ways particularly through the Bofors scandal and the machinations of V.P.Singh. See the following.

From a website - The first whiff about the scandal came on April 16, 1987 when a Swedish Radio broadcast claimed that AB Bofors had paid kickbacks to key Indian policy makers and top defence officials to secure the deal. News about this broadcast was carried in the Indian media and the Rajiv Gandhi government issued a prompt denial.(Ketu Rahu period of Indian Independence horoscope)
The details came to be known later.


From a website - A deal was signed on March 24, 1986, between New Delhi and the Swedish metals and armaments major, which said AB Bofors would supply the Indian Army with 410 155-mm howitzers. An option to license-produce 1000 more guns was also included in the deal.The amount was a significant $285 million (about Rs 1500 crore) for a pre-liberalization India. Sonia Gandhi through whose connection Quattrochi had entered into it all was not even visible then and the blame for it all fell fully and squarely on Rajiv Gandhi.
I remember those days very vividly as I was in government service producing reports and my intimate batch mate, late R.V.Bansod, produced the Bofors report. He used to come to the CAG's office where I was posted, almost every week to discuss this report with T.N.Chaturvedi the CAG who took deepest personal interest in the case as in no other report. I often saw expressions of despair on the face of Bansod who told me a thing or two and expressed his exasperation.
Saturn waited for thirty years to enter Vrischika again to bite Sonia Gandhi in 2015 and her son.
In 2015 etc
Saturn in Scorpio now has shown first communal tensions then casteist problems through Patidar movement in Gujarat and now the focus is on Delhi and three political parties.
Politics in India has deteriorated now. Some politicians, being products of bad upbringing or excessive materialistic greed or political ambitions, have also become abusive unlike anytime in the history of independent India. Those days predictable denunciations were couched in acceptable language. In 1977 we had Raj Narain, a rustic MP who had defeated Indira Gandhi, never known for blatant abusive language as an IIT man called Arvind Kejriwal chief minister of Delhi tweeting vulgar language for the Prime Minister of India now in 2015. Or Mamata earlier uttering this After Calling Narendra Modi a 'Donkey', Mamata Banerjee Now Calls Him 'Danga Babu' Press Trust of India May 09, 2014.
But remember all this had begun when Sonia Gandhi said "Maut ka Saudagar" in an election speech long before Saturn reached Vrischika. But Narendra Modi himself was very indecent in his election speeches in Bihar with Saturn in Vrischika particularly when he referred to the daughter of Lalu Prasad Yadav.
Saturn, known for teaching lessons through hard knocks on the head ,is creating a painful internal churning in all political parties apart from attacks on it so violently. Internal churning is visible now checks and balance in a democracy will emerge out of such bickering which is good for Indian democracy.
In the case of the Congress there is no internal democracy it being a party of dynastic slaves, and therefore no internal bickerings leading to exposure of corruption has emerged. For BJP, it is now a fiery ordeal. It is true that there are stories within stories in all these and it is also apparent that many enemies of Arun Jaitley in the BJP are now thirsting for his blood to settle their personal scores. We produced a book showing how ages of 36 and 72 are significant years in the life of an individual or even a political party, The Congress party (I), formed in 1978 lost badly in the elections of 2014. BJP is reaching its thirty sixth year in 2016.
AAP a party known, as someone said in a television debate,as always accusing party expelled Prashant Bhushan and Yogendra Yadav two dissent¬ing voices, and made Kejri a dictator. This party will have a churning after facing a court case. This party will have to take many knocks on its head to shed it vociferous vulgarity which can happen after facing court cases. (See Appendix 1)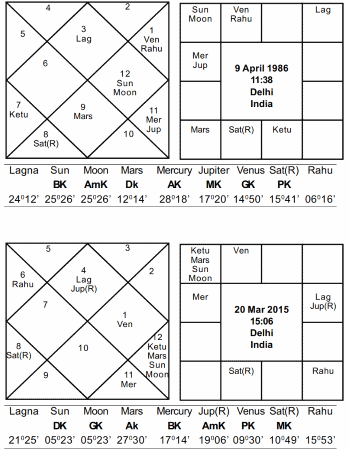 - Saturn is in Vrischika and Mars aspects the lagna, Sun and Moon in the tenth house.
- Saturn is in Vrischika and Mars afflict Sun and Moon along with Ketu.


Some observations
1. Subramian Swamy is becoming with his winningly capricious personality the agent of Saturn in the year 2015 by offering even to help Kirti Azad against Arun Jaitley.

2.Saturn is doing what journalists failed to do---it is proving that the year 2015 is a watermark year for us to discover that politicians are self-serving, laughable idiots also dreaded as powerful scoundrels.

3. If in courts of law they, the politicians, strip each other naked and it is reported in newspaper, courts of law will become a substitute for fear of God for them in future.

4. Stories of corruption of the Congress party and the BJP are well known and are always in thick rumours. CAG had shown the corruption of Con¬gress led UPA government through its various reports with Kapil Sibbal arguing them to be "zero losses" AAP, yet to learn these tricks, will wait for its pretence and pomposity to be pricked very soon when many more facts are discovered. At the moment it is a screaming party of ill disciplined urchins in politics.

5. Will the tweet specialist Kejri say " Why was Delhi discovered to be world's most polluted city one year after I became the chief minister."? He will do it when necessary to answer when asked what had he achieved for Delhi after raising inflated expectations.

6. Astrologically, the result at the end of court cases will be one party will be proven to be dirty, the second party dirtier and the third party dirtiest. For this I am using the Dhanu lagna horoscope of AAP though Sundar Balakrishnan has written to me that he has subsequently switched over to 12 noon horoscope. But Salil Jogi , also an astrologer, who claimed to have attended the same meeting told me that it could be 10 am, 11,am and 12 am depending what our basis was. With Mars in the lagna, lagna lord in the sixth house and Venus and Saturn in the eleventh house, its habit of street fighting is explainable why it should be Dhanu lagna clearly. And looking at the belligerence and rusticity of AAP with its lack of decency, the Dhanu lagna seems more suitable . And with Mars and Rahu in Kanya, AAP's tenth house shows its vulgar reactions clearly and publicly. First Post explains this behaviour of Arvind Kejriwal in its own way.(Annexure 3)
See the transit these days.
The Congress Party with Meena lagna has Rahu and Mars in seventh house ruining its public image so severely. In its present Jupiter dasha, aspected by the sixth and eighth lord there is the mixed reaction of disgrace and helpless fight: in the antardasha of Mercury the seventh house of its public image and in the pratyantara dasha of Saturn in the sixth house it has hardest offights.
With Mithuna lagna, Mars and Rahu in its fourth house shows BJP's troubles within the party itself with Kirti Azad getting support from known and unknown party leaders. In its Sun dasha, (third lord in the tenth house) Saturn eighth and ninth lord in the third house and Jupiter dasha involved in a guru chandala yoga, it is fighting better without being able to avoid disgrace.

They say haman me sab... Saturn in Vrischika is doing that now.
Famous victims of scorpion bites of 2015 (to be undated) :-
Congress Party: Sonia Gandhi and Rahul Gandhi
BJP: Arun Jaitley and Kirti Azad
Aam Aadmi Party: Kejriwal, Ashutosh, Sanjay Singh, Kumar Vishwas, Raghav Chadha and Deepak Bajpai
Ram Jethmalani: Someone should ask him to read Yaksha Prashna in the Mahabharata. (see appendix 2)
But it is the first time that Saturn in Vrischika is driving them from streets into courts of law. Street fighters like Arvind Kejriwal have been dragged to the court by Arun Jaitley. Does it mean that Saturn in Vrischika favours lawyers? Who was it, (Ramakrishna Paramhamsa ?) who said that doctors and lawyers go to !!!
And the last bite of the scorpion as the year 2015 was ending is that our members of parliament after doing no work in parliament, holding it to ransom have unanimously agreed to increase their pay and allowances and unanimously. If the argument is that payment should be according to performance then include shouting, individually or collectively, also as performance. Yes by shouting collectively they spend more energy needing more stamina than listening to one speaker speaking at one time and listening quietly. They do not call it Shouting Allowance.
CAUTION: Remember Mars will join Saturn in Vrischika and will be there for many months. Remember belonging to a political party and becoming its blind loyal supporter is a new weakness of a new age.

Appendix 1
'Is vulgarity the new norm of Indian politics?': Arun Jaitley speaks out on Winter Session Dec 24, 2015 16:31 IST
STRAY THOUGHTS AFTER THE WINTER SESSION
What about the statements made by the Hon'ble Chief Minister of Delhi about the Prime Minister and others, both inside and outside Delhi Assembly? If any functionary of the Government of India were to use such language, it would result in a nationwide outrage. People in positions are expected to act with restraint. They cannot be outlandish.Vulgarity is not a right available to them. The political discourse cannot be couched in vulgar language. Falsehood delivered with vulgar overtones is not a substitute of truth. Lumpenisation of public discourse can never be a high point of politics. Functionaries of the Delhi Government and its supporters have lowered the level of political discourse. They rely heavily on general falsehood without ever stating the specifics. The Aam Aadmi Party's success in Delhi seems to have misled the Congress Party that vulgarity brings votes. Indian public opinion has a sense of fairness. It is time that public opinion expresses its outrage against the lowering of the level of public discourse.
Appendix 2

The Times of India
Will see to it that Jaitley goes to jail one day: Jethmalani
TNN | Dec 25, 2015
NEW DELHI: Former law minister Ram Jethmalani lashed out at finance minister Arun Jaitley on Thurs-day, calling him a "disaster for PM Narendra Modi", and said he would "see to it that he one day goes to jail".... As finance minister, he has done nothing to fulfill the promise that the Modi government made to the people... to get back the Rs 90 lakh crore kept in banks abroad."

Annexure 3

Decoding Arvind Kejriwal: His method is his statement and here's why he is not going to change
by Akshaya Mishra Dec 25, 2015
He troubled the Congress three years ago, and he is troubling the BJP now.
He was acerbic with his tongue then, he is equally acidic now. He punched well above his weight then; he is still at it. His approach has an anarchic trait then, it has not changed a bit. People had been guessing whether his madness had a method, they are still undecided. He confused us all as an anti-corruption crusader and as a politician, he continues to be a riddle.
In short, Arvind Kejriwal remains where he was: That devil-may-care attitude, the air of irreverence and take-the-holy-cow-down approach are right where they were; perhaps what has changed is the way the world looks at and interprets him these days. As he takes on another political biggie, Arun Jaitley, and keeps targeting Prime Minister Narendra Modi, there's a fresh round of speculation on what he is up to.
Is he gunning for the prime minister's job in 2019? Yes, some would believe. There's a vacuum in the Opposition space right now and the Congress under Rahul Gandhi's leadership is not likely to occupy it quickly. So far so good. But why would other regional leaders cede space to him when there is a lot of prime ministerial ambition going around among them? JD(U) chief Nitish Kumar and West Bengal Chief Minister Mamata Banerjee have offered plenty of hints of this ambition earlier. ....The simple fact is that though his style of operation has not altered a bit, Kejriwal of 2015 is not the Kejriwal of 2012. For someone whose politics is all about daily skirmishes, angry decibels and a spectacular lack of fresh ideas, it would be impossible to earn equal space with his vastly senior peers in other friendly parties. It means the prime ministerial ambition attributed to him is a bit far-fetched.
Is he only trying to make his presence felt through regular doses of outrageous activity? Perhaps, he is an incorrigible attention-seeker, but it does not lead us anywhere; he is already a legitimate political presence in Delhi and he does not need his high-decibel theatrics to be visible anymore. ... The motive behind Kejriwal's actions will forever remain open to interpretations.
(25 December X-Mas 2015)