Hindu New Year Chart 06 April 2008, 09:25:00 Delhi
In the Hindu new year chart of 2008, malefics are occupying the kendras. Lagna is aspected by retrograde Saturn, Mars is aspecting the 8th house and its lord Jupiter. This is the reason for so many terrorist attacks that India suffered this year, which has not ended yet. But lagna lord exalted in the eleventh house and combination in it is good for parliamentary activity.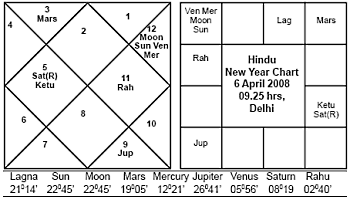 Soorya Veedhi Chart Makara Sankranti
14 January 2009, 6:27:00, Delhi
In the Makar Sankranti chart, the lagna lord Jupiter is debilitated. Mars the 12th in lagna showing military activity, war like situation and secret plots. The 8th house which in mundane signifies mass death, is occupied by Ketu and aspected by malefics like Sun and Mars. According to Varahmihira 'Makar' is the sign of India, which is occupied by four planets in this chart. In past afflicted Capricorn sign has created problems in Northern India, Pakistan and Afghanistan.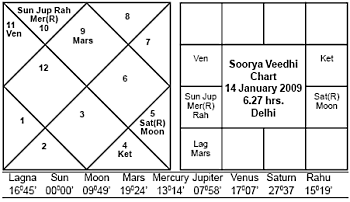 Rashi Sanghatta Chakra 12 January 2009, 06:27 hrs.
In Rashi Sanghatta charka on 12 January 2009 the malefics Ketu, Mars and Saturn(R) are aspecting each other. This ignites a war like situation. Even though the Parashara aspects between Mars and Saturn is absent but they are causing Vedhas to each other in this charka.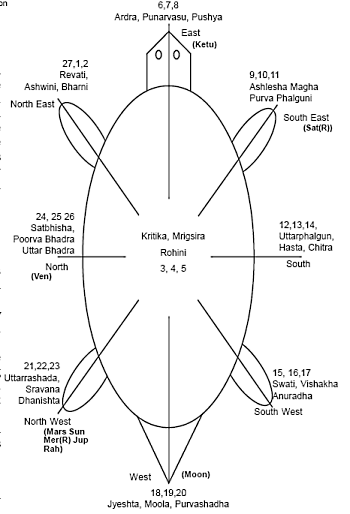 Koorma Chakra
24 January 2009, at 05:30 hrs.
On 24 January 2009, Mars will enter into Uttarashada Nakshatra. In Koorma Chakra, North West direction is ruled by Uttaraashada, Sravana and Dhanishta Nakshatra. On 24 January 2009, there will be five planets including malefics like Mars, Rahu and Sun affecting the North West direction. According to Brihat Samhita North west direction indicates modern Afghanistan, Pakistan, Northern Port of Punjab, Rajasthan and Kashmir. So between 24 January 2009 to 14 February 2009 we can anticipate war like situation at these places. It is combination for a destructive earthquake. As in 2001, it is occurring on the Indian Republic Day, 26 January 2009.
( January 11 2009)