As a sportsman for so many years, in fact for decades and, only a sports lover now, in my old age, I do not remember, subject to correction, when one particular month of a particular year proved and became so spectacularly glorious for a nation, as July 2010 has been for Spain.
On 4 July a Sunday of 2010, Rafael Nadal of Spain won convincingly his finals against Tomas Berdych who has a record of 111 aces (nine in the finals) for a finalist in the tournament. As a conqueror first, of Roger Federer and later, of Novak Djokovic, I, like anyone else, expected to see a close fight with Nadal. But Nadal destroyed him in three straight sets. Berdych was a pale shadow of the giant of earlier rounds. Was such an anti climax expected ? What a disappointing night it was for us in India where we watch these matches only at night.
One week later, on 11 July also a Sunday came the greatest event of the greatest sports event of the world--the FIFA 2010 final between Spain and Holland. Worse than the men's singles final of the Wimbledon, it was a disgraceful anti-climax with Spain playing artistically and Holland like a bunch of hooligans who would have become a law and order problem anywhere except on a football field. But it is not a tribute to anyone if it is remembered that thirteen yellow and one red card in the finals of the greatest sports event was a terrible shock for those of us in India who had to keep awake at night to watch these matches.

Johan Cruyff of the days of glorious total football of Holland of the seventies of the last century condemned his own country's team of abandoning their original graceful football and taking to rough one.

In retrospect, I thought that the match between Germany and Uruguay for the third place, described as pointless by the Manchester Guardian, was the most delightful, artistic and enjoyable till the end. In the entire tournament Forlán of Uruguay caught everyone's eye, and I thought that if he had not missed some of the closest goals from near the box, his tally of goals would have been seven or more and he might have created an unbeatable record for even future World Cup matches of FIFA.

Attention got diverted to Paul the octopus credited with psychic powers and reported to have given eight correct predictions in the world cup matches. It was shown in various television channels. The annoyance of Argentinians was talked about repeatedly and even 'Nazi Octopus' Slain By Argentine TV Host In World Cup Revenge was shown by some Indian television channels !!

The CNEB channel sent a woman anchor for a byte from me and Amar Ujala one of the largest circulated dailies of the world, took a very long interview from me to be used in Sunday supplement (18 July.) I will translate parts of that and display it on this site.

In the aftermath of all these we discussed why and how it was such a glorious July for Spain.

What is the astrological explanation? I had done some work on national horoscopes and used my double transit research with success and impressive replication.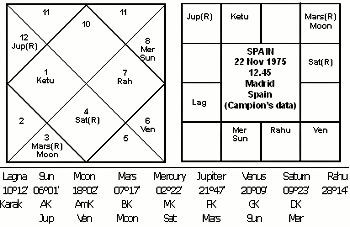 Vimshottari dasha Saturn-Rahu from 22 February 2008 to 19 December 2010.CHARA DASHA – Kanya (with Amatyakaraka) and Karka from 23 May 2010 to 23 March 2010 with Atmakaraka and Amatyakaraka aspecting each other along three-nine axis.
Which horoscope of Spain should be used was a problem. I chose from Campion's book, World Horoscopes and found it applying and becoming another instance of a good replicable case.

Saturn in Kanya and Jupiter in Meena is the beautiful three nine axis for success in sports while the dashas were favorable as shown again the horoscope used here. Third house is important. See Jupiter in Vrischika aspecting Karka, the third house of Indian Independence horoscope and Saturn in Tula completing in 1983 when Kapil Deo led Indian cricket team won th World Cup in One Day cricket beating West Indies. ( 16 July 2010)