In making the appraisal of mundane predictions, some points got left out and some developments that have taken place soon after the first part was written are included in this second part.
Also remember , you rarely meet a balanced and rational man or even astrologer in India when we discuss national politics. They are either pro Modi or anti Modi , pro Kejri or anti Kejri, pro Congress or anti Congress party. Keep the background of corrupt bureaucracy always in the mind. In 1964 there was book the Crisis of India by Ronald Segal proving the unbreakable triad of corruption among businessmen, politicians and bureaucrats. During Indira Gandhi, her Cabinet Secretary B.G.Deshmukh, wrote that foreign arms deals became a rich source of making money which practice Rajiv Gandhi carried further. The Sonia controlled UPA took it to extreme limits. In the meantime foreign funded NGOs became cause of national disruption . And the awards like Magsaysay became a source anti patriotic activity and Kejriwal is a product of this.
Can Narendra Modi who made many elections promises fight all this system and achieve something ? He is doing it in national interests within these limitations and can achieve something because he is incorrupt and incorruptible which is what cannot be said about any other political leader of other political parties. In appraising the national politics these should be kept in the mind and not approach all these with a closed mind as astrologers have been doing. We will have to wait to see what actually Modi achieves because as an incorruptible man he alone can achieve what all others have failed to.
Then remember the Garibi Hatao slogan of Indira Gandhi, the biggest slogan and hoax of Indian democracy. But from 1974 inflation, uncontrolled price rise led to agitation resulting in the overthrow of India Gandhi in 1977. Since those days prices have never been controlled.

Then see the horoscopes and it shows clearly who is born with a mission and who is an opportunist, unreliable and a foreign agent. Also remember their achievements , proven and on record as are Modi's. In Delhi we travel on broken roads for which no money has been found for repairing by the government of Kejri which however has a huge fund for advertisement. Remember glaring contrasts to know whom one can take seriously.
Now see a positive area.
1. Foreign investments: Foreign investment
in India leading to greater employment opportunities and Narendra Modi's "Make in India" dream will begin to become an attractive reality from this year onwards with defence production taking priority. In turn, India will also open and participate in investments in foreign countries and help with its technical know how. Such investments from even Muslim countries will be a reality. India's defence sector will get strengthened spectacularly this year.

The Make in India dream is now getting fulfilled.

Developments that took place on 20 June and being reported widely here is worth noting. "The Times of India - Big reforms: Government introduces 100% FDI in defence, civil aviation -Sidhartha | TNN | Jun 20, 2016, 02.47 PM IST NEW DELHI: The government on Monday announced fresh liberalization of FDI rules throwing open food retail, airlines and private security firms to higher overseas investment. Other sectors in which FDI norms have been relaxed include e-commerce in food products, broadcasting carriage services, private security agencies and animal husbandry.

It also tweaked rules to allow companies such as Apple to open their own stores in the country by exempting them from local sourcing requirements for three years under the single brand retail segment for entities with cutting edge technology.
"Now most of the sectors would be under automatic approval route, except a small negative list. With these changes, India is now the most open economy in the world for FDI," said an official statement.

The decision to further liberalize FDI regime with the objective of "providing major impetus to employment and job creation in India" was taken at a meeting chaired by Prime Minister Narendra Modi today.

The results of these will become visible in 2017 to a small extent and more in 2019 with India becoming a manufacturing hub with jobs growing.
2.Pakistan
A military coup or the replacement of Nawaz Sharif is looming in the horoscope of the new year of Pakistan.

The Times of India
Pak military tightening grip on policy making? Omer Farooq Khan | TNN | Jun 20, 2016, 12.33 ISLAMABAD: Into the last 24 months of its rule, the Nawaz Sharif regime is giving the impression of a lame duck government. Political controversy over Panama papers is refusing to die down, and Sharif himself, recuperating from a surgery, has become vulnerable to criticism. Worse, a freeze in Pakistan's relations with India has come on the back of uneasy relations with the United States, escalation of tensions with Afghanistan, and growing mistrust with Iran.

Last week, the entire cabinet, excluding the interior minister, were called for a meeting to the military's general headquarters (GHQ) in the garrison city of Rawalpindi following a call from the men in khaki, showing their dominance in the country's decision-making process. The agenda was to discuss the country's external and security-related policies.
3. ISIS
Whatever actions nations may take, ISIS will continue to attract radicalised youths from all over the world much to the consternation of even India. But it will see huge destruction of the land it has snatched from Syria and Iraq. "The group has been forced out of about 55 places where it once had control, including four major cities, since it made rapid advances across the two countries in 2014. And it could soon lose Falluja, the first city it controlled.( New York Times 20 Jan 2016)http://www.nytimes.com/ interactive/2016/06/18/world/middleeast/isis-control-places)
New York Times gives a detailed account.

Newspapers have been reporting both-¬ISIS losing territory and also attracting youths from all over the world.
4. Kejriwal
After what I wrote in the first part about the weak dashamansha of Kejriwal the develop-ment that took place which may land Kejri in some trouble is the following report.
ACB registers FIR in tanker scam, to quiz Dikshit and Kejriwal
PTI, New Delhi | Updated: Jun 20, 2016 21:48 IST
Last week, the Delhi government had sent a report of a fact-finding committee on the scam to Lt Governor Najeeb Jung.
A case was registered by Delhi's Anti-Corruption Branch (ACB) in connection with the alleged Rs 400-crore water tanker scam linking former Delhi chief minister Sheila Dikshit.

ACB chief MK Meena said two com¬plaints were received with regard to the scam and those named in the complaints include Dikshit and Delhi chief minister Arvind Kejriwal. He said both Dikshit and Kejriwal will be quizzed. "An FIR has been registered under relevant sections of IPC and Prevention of Corruption Act and both of them will be quizzed," Meena said. Last week, the Delhi government had sent a report of a fact-finding committee on the scam to Lt Governor Najeeb Jung. Delhi BJP leader Vijender Gupta had also filed a complaint with Jung accusing Kejriwal of "suppressing" the committee's report for 11 months.
The mahadasha , Kejri has been running is of Jupiter debilitated in the twelfth house of the dashamansha and the antardasha lord, Venus is here too aspected by debilitated Saturn and debilitated Mars. It is ominous.
5.Iraq
Stronger now than when ISIS was rising, this country cannot remain complacent. It will attack ISIS strongholds better and will also be attacked even by a battered ISIS. Saturn and Mars are in its fourth house of the new year horoscope. It is likely to recapture some of the land and oil fields it lost to ISIS.

Day after day it has been happening and the Iraqi army has been routing ISIS more suc-cessfully and effectively than ever before.
6. U.S.A.
The striking feature is that the top men of USA and the presidential candidates will get involved in unpleasant debates, some of them will be disgraced and even attacked. Slide in oil prices will affect its economy and prospects of employment. Possibilities of USA known for bagging maximum Nobel Prizes, apart from science even in literature, appear bright.

There will be many more cases like 3 Dec 2015 San Bernardino, California attacks. If USA fails to control license of guns, this year will be remembered for many tragedies. Rahu in its birth lagna Saturn and Mars in the fourth house is not an indication of peaceful year for USA.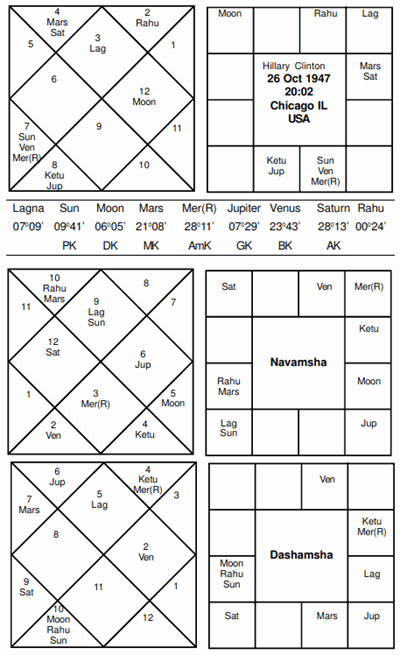 The Trump and Clinton debates and reaction against Trump are re¬ported widely and many ugly scenes have taken place.
More important is the Orlando tragedy. The year has many more months left still, nearly nine more and what happens more is to be watched. Hilary or Trump ?
Who will win Clinton or Trump is a question which can be answered if an undisputed horoscope of Hilary was available. One horo¬scope of her used by Shalini Dhasmana in 2001 predicting good future has proved correct so as she became a Senator and United States Secretary of State. Now in the maha-dasha of Moon in her tenth house and antardasha of Jupiter the tenth lord aspecting the tenth house are not her chances bright on the basis of this horoscope?
( 21 June 2016)