(Written on 1 June 2012 at 11/04 pm)
Viswanathan Anand lashes out at his critics Published: Friday, Jun 1, 2012, 19:46 IST, New Delhi | Agency: PTI
In a rare display of irritation, Viswanathan Anand, who has just won his fifth world title, today hit out at chess great Gary Kasparov and other critics for suggesting that he lacked motivation. "I think that this is the first time I have played a match where so many people seemed to have negative opinion about my play. And the thing is I do not think I lacked motivation," Anand said about his clash with Israel's Boris Gelfand, whom he beat in Moscow on Wednesday to win his fifth world title. 42-year-old Anand told NDTV in an interview from Moscow that Kasparov "keeps talking about my age" but Gelfand was slightly older at 44. http://www.dnaindia.com/sport/report_viswanathan-anand-lashes-out-at-his-critics_1696903
======================
The reason for writing this piece is the above statement of Vishwanathan Anand.
Long after giving up chess, I had read a story of Stefan Zweig about a chess player who had given up playing chess because he felt that a day's play went deep down in the subconscious---- one discovered that the mind was getting split into two--the white half( pieces) and black half( pieces.) I felt amused and felt that it was a true description as two games I have played, chess and bridge, are like addiction. There ofcourse was the great story of Munshi Prem Chand, Shatrang ke Khiladi, in Hindi which we read in our school days. Most of the ranked chess players I had seen were like people lost in a semi trance, oblivious of even their immediate surroundings.
I had read lot of chess literature and played on my chess board most of the brilliant games of world champions, most of them Russians, who from the days of Botvinnik (1946) till 1972 had dominated the world scene of chess till Bobby Fisher had snatched it away from Boris Spassky. But then again it returned to Russia till India's Vishwanathan Anand snatched it away from them first in the year 2000 and later from 2007 till date, winning four times consecutively. That may be the cause of unhappiness of Russians against Vishwanathan Anand.
In my younger days I played the games of world champions, when available in full notation, on my chess board, though in the pre-internet days only few were available. First came into our chess careers as a great inspiration, the great Alexander Alekhine, a Russian exile. Then Paul Keres who never won a world championship as far as I know.
The Botvinnik-Smyslov games dominated world scene for some years and we could get them in printed form, play them and see why Botvinnik was an iron logician.
For a brief while, before I gave up chess totally, came the rare brilliance of Tal, again a Russian, always suffering from a bad health because of his constant smoking, dissolute life. Had he the gift of a good health perhaps he would have become the greatest chess player of world. Above them all was Capablanca voted as the greatest chess player.
But now comes the claim of Kasparov, who has given up chess and has created an anti-Putin front in Russian politics. Kasparov's famous opponent Karpov engaged him in long duels over a period of many years. A debate is going on now about Kasparov being the greatest ever chess player. And I vaguely remember that once when Kasparov was asked whether Kramnik was the player who would dethrone him, he is said to have pointed to Vishwanathan Anand as a threat to his supremacy. That proved prophetic in 2007 since when Anand has been a world champion. Indians are proud of it mainly also because this most complex game, known as chaturanga, is India's gift to the world. Travelling to west Asia, it came to be known as shatrang or shahmati and in Spain as eschess, later as chess.
And in the changes they made in the west, the opening pawns can move two columns initially and the mantra (minister) or vazeer became queen which was done by durbaris (courtiers) to flatter some powerful queen of some western nation.
I have not played a single game of Vishwanathan Anand on the chess board though it is now available in notation on the internet, yet I have followed his career and tried to search his horoscope which I did not get except his date of birth and some events of his life.
I thought that I would work on it when the recently reported match between him and the gentleman player, Gelfand, a Russian, now an Israeli citizen, were going on.
Anand's date of birth given was 11 Dec 1969 and some events were:
---Married in June 1996
---A son born on April 9, 2011 fourteen years after marriage.
---Has a brother and sister elder
---Father was in railways
On this basis I quickly fixed Tula (Libra) lagna 03/18, vargottama and decided to work on it. But then seeing the speed with which the television channels were covering the news of the world championship contest between him and Gelfand that instead of working on it I remained glued to the news, the online display of the moves and commentaries, and decided to adopt a well-known short cut--- see it from natal Moon which is in Dhanu.
The place of birth is Mayiladuthurai but I adopted Chennai here not getting
the correct latitude and longitude of this place. Dasha during the championship
Rahu-Jupiter-Mercury during this period in Vimshottari Mesha Tula Kumbha in Chara Dash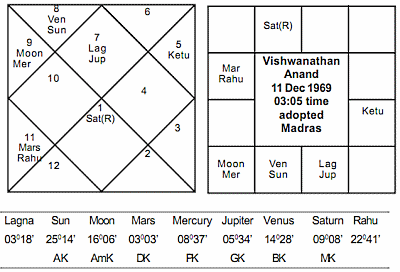 From his Moon in transit Saturn was in the tenth house and Jupiter in Vrisha (Taurus) aspecting the tenth house.
No one asked me for the prediction and I gave none. Indians are swayed by IPL cricket more than this great world event in which an Indian was attacked verbally by what Chidanand Rajghatta described in the Times of India thus.
===============================
The Times of India - Viswanathan Anand shows the heart of a champion in winning fifth world title - Chidanand Rajghatta, TNN | May 30, 2012, 10.06PM IST
They trash-talked him, ridiculed him, and wrote him off. They said he had slowed down, lost his flair and chutzpah, and become conformist and traditional in his play. But Viswanathan Anand took on everything the Russian-Israeli chess mafia and his growing band of critics threw at him and emerged on top yet again on Wednesday, winning the world chess title for the fifth time, and shutting up detractors for now."
====================================
The dasha of Rahu in the third house from Moon but in the fifth house from the lagna and antardasha of Jupiter, the sixth lord, in the lagna but eleventh from Moon, on this basis as favorable I figured out. I did not have the horoscope of Gelfand. On this basis, the thinnest basis I thought Anand would win. Or was it the wishful thinking of an Indian ?
In retrospect, what I worked on, his horoscope, is here, subject to correction if my data is wrong.