Rahul Dravid announced his retirement from cricket. He took the step by announcing his retirement from not only Test/One day cricket, but even went to the extent of announcing retirement from domestic cricket. Perhaps, he could not overcome the lure of free money as he has yet not announced his retirement from IPL.
"Dravid has been a class player for a long time now and we know his ability better than anyone. Averaging 21/2 hours at the crease against us is a fair stat. He's not like the other guys who love scoring off every ball, and there's no real weakness in his game either. He's mentally strong.
You've just got to bowl well to him early on because he gets himself really set for a big innings once he is in."- Glenn McGrath Similar sentiments echoed by Mathew Hayden speak a lot about this character called Rahul Dravid.
Rahul Dravid was born in Indore. His family belongs to Maharashtra and his father was working there at the time of birth. His horoscope has been discussed at many places and the charts of such great cricketers need examination from many angles. I am taking Rahul Dravid's horoscope here for analysis of his cricketing career. It is a kind of tribute to him on his great cricketing career.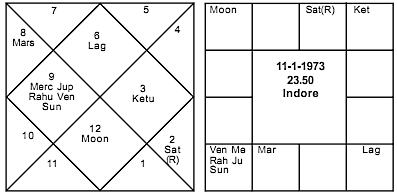 Rahul was born in Kanya lagna, on 11-1-1973 at 22.45 hrs. at Indore in Madhya Pradesh. Notice at the birth chart of Dravid which is given here. Lagna lord, Mercury is placed in the fourth house along with Kendra lord Jupiter, ninth lord Venus, twelfth lord Sun and Rahu. This combination is unaspected in the whole chart. Notice the mutual aspect of Saturn and Mars along 3/9 axis. His Karakamsha lagna falls in Sagittarius and the tenth house from Sagittarius is aspected by a cruel planet and two malefics. Sagittarius happens to be a fiery sign too.
According to available information on Dravid, we find that he has a younger brother who is an engineer and who also plays cricket. Dravid, like Tendulkar was born in dasha of Mercury at birth. He was born in Mercury/Sun. Incidentally, Tendulkar was also born in dasha of Mercury and started his early cricket in Mercury's dasha and shaped it up in Ketu's dasha. Dravid started playing cricket at the age of 10, when he entered into Ketu's dasha with Ketu in the tenth house. When he started his cricketing career he was not only a batsman but also used to keep wickets.
Gundappa Vishwanath, another cricketing great, advised him to concentrate only on his batting and avoid keeping wickets to which, Dravid born in Revati nakshatra, agreed and followed. Later he had to keep wickets in Test cricket sometimes, when required.
Jamie to teammates and a suave, sober guy to cricketing world, a man of steel inside but soft demeanor outside, he started his cricketing career in the year 1991 when he was picked to play against Maharashtra in the year, 1991. This perhaps marked the beginning of the construction of the "wall", which later became impregnable as Shane Warne and Mathew Hayden stated. You allow Rahul to settle down and then you can only watch him weave magic with his willow.
By the time we reach, 1991, Dravid comes into dasha of Venus. Again a great coincidence, because, Tendulkar also became TON Dulkar during this period. Venus is the ninth lord of Dravid's horoscope and is involved in raja yoga combination in the fourth, aspecting his tenth house.
Dravid married Vijeta Pendharkar on May 4, 2003 and is proud father of two sons, born in 2005 and 2009. All these events which took place in the dasha of Venus which can be easily seen and verified in his chart. He took retirement in 2012 when he had started dasha of Sun, which is nearing now for Tendulkar also.
Dravid's achievements in the world of cricket were sort of overshadowed by the presence of so many greats in the Indian team but no one could ever think of leaving him out of the team. Such was his aura that he had virtually become indispensable for the cricketing world, be it any form of cricket. His flawless technique, as said so well by Mathew Hayden, "Dravid has been a class player for a long time now and we know his ability better than anyone. Averaging 21/2 hours at the crease against us is a fair stat. He's not like the other guys who love scoring off every ball, and there's no real weakness in his game either. He's mentally strong. You've just got to bowl well to him early on because he gets himself really set for a big innings once he is in" speaks volumes about him and his being the only non-Australian cricketer to deliver at the Bradman Oration in 2011.
Some more facts about this cricketer, who normally lived in shadows would no doubt astound anyone :
* Rahul Dravid is the first batsmen who has registered a score of century in all test playing nations.
* He has played 93 consecutive five day test matches for India
* The first player to score 10000-run at No.3 position
* Rahul Dravid has a record of most number of catches in Test Cricket.
* His highest knock of 270 runs is the longest innings played by an Indian batsman in terms of minutes.
* He holds a record for not being dismissed on a duck for 120 innings consecutive one-day matches.
* He is only the second non-English cricketer to have hit three or more centuries in a two different Test series in England, the other being Donald Bradman.
Even Tendulkar would on his days would envy such records held by the silent marauder of the leather ball.
With a strong technique, he has been the backbone for the Indian team. Beginning with the reputation of being a defensive batsman who could not be accommodated in the one day side, he was dropped from ODIs, going by the slow run-rate of his scoring. However, in a period of his career he began scoring brisk runs in ODIs as well. He earned ICC player of the year award and his nickname of 'The Wall' in Reebok advertisements has now become a tribute to his consistency.
Dravid has scored 36 centuries in Test cricket at an average of 53.19, including 5 double centuries. In one-dayers too he has an impressive average of 39.49, although at a strike rate of 71.22. He is one of the few Indians who average more at away Test matches than at home, averaging about 5 more runs a match abroad than on Indian pitches. After perhaps, Mohinder Amarnath, Rahul Dravid is the only player who consistently did well outside India.
Some of the yogas present in his chart can easily be seen. He has Hamsa yoga, Parijaat yoga, Kedar yoga, Voshi yoga, Parvat yoga and also Kahala yoga. He also has Kemadruma yoga which in turn gives rise to Parijaat yoga, because of presence of Jupiter in the tenth house from Moon.
Analysing his cricketing journey through the years, perhaps his best in field of cricket came after 2010, when there were talks all around that he should be dropped from the team. In the year, 2010-11, Rahul Dravid was undergoing dasha of Sun with antardashas of Moon and Mars. 2007 and 2008 were perhaps lean patches in his career, when he was even dropped from the one day team and daggers were out till he silenced his critics by stiching a masterly triple century stand with Gautam Gambhir and scored 136. This happened at Mohali against England and there after Dravid did not have to look back.
Sun the twelfth lord in his birth chart was consistently indicating and hinting towards his retirement. The two series in England and Australia put paid to a distinguished career and despite the well-wishers wanting Rahul Dravid, now 39 to continue, he finally put to rest his pads and gloves for his state and the country but decided that he would continue to participate in cricket hungama called IPL.
Venus in the trine of his dashamansha, aspected by Jupiter and Saturn did not allow him to hang his boots but with the onset of Sun in the twelfth house of his dashamansha, the thought of retirement from active cricket would have surely started dominating his thought process.
I am of the opinion, that placement of Sun in the twelfth house of his saptamsha also has something to do with the announcement of retirement from active cricket. In Sun/Rahu/Sun, Rahul Dravid said good bye to cricket and left behind a legacy which none other batsman can fill.
During the tour of Pakistan in 2004, an unsavory incident involving Rahul Dravid had taken place when he had declared Indian innings closed with Tendulkar stranded at 194 and 16 overs remaining for the day. Dravid could also not prove to be a good captain for the Indian team as during his captaincy, India had a poor record.
Rahul Dravid has had a mixed record when leading India in Tests. India lost the Karachi Test in 2006, giving Pakistan the series 1–0.
In March 2006, India lost the Mumbai Test, giving England its first Test victory in India since 1985, enabling Flintoff's men to draw the series 1–1. While the loss in Karachi could be due to several Indian batsmen batting dismally, the defeat in Mumbai was arguably the result of Dravid's decision to bowl first on a flat dry pitch which later deteriorated and ended with an Indian collapse in the run chase. And, it was Dravid's 100th test match in which the Indians were all out for 100 runs in the second innings.
Over all, out of 25 test matches, that he captained, India won 8, lost 6, tied 6 and drew 11 and in the one-dayers, he captained Indian in 79 matches, out of which India won 42, lost 33, tied none and drew 4. Drawn one-dayer actually means a match with no result.
During our research on careers of sports persons and artists one thing which struck us was that in case of sport persons the third house always dominates. However, while delving deeper we found that the Karakamsha lagna, according to the method advised by Shri K.N. Rao also has a meaning. Here the Karakamsha lagna of Rahul Dravid falls in a fiery sign and Sun, Rahu and Ketu aspect it and also tenth from it.
In 1999, Glenn McGrath is believed to have been said if there was one Indian player who would get an automatic entry into an Australian team filled with stars, it would be Rahul Dravid. How many times have we been told that mere combination of Sun and Jupiter in a horoscope creates rajlakshana yoga and here in his chart, we find, Sun and Jupiter together and that too with lord of Kendra and trikona and importantly we have five planets in the tenth house from Moon with all those planets aspecting his tenth house.
Interesting observation is that both he and Tendulkar have got similar dasha patterns and one of them having announced his retirement from the world of cricket, we are perhaps awaiting another jolt when Tedulkar announces his retirement, not very far it is though. I remember having been put to sword any times on that chart of Tendulkar and had long back in 2005 indicated his period of retirement. But now time is coming when two rather three greats of Indian cricket are lined up to say good bye, not forgetting VVS Lakshman at this hour.